Ron DeSantis Makes Ominous Warning About Disney's Future Creative Control
Ron DeSantis appeared to suggest that a new five-person board the Florida governor will appoint to oversee Walt Disney World's self-governing district may push for a say in what content the corporation produces.
On Monday, DeSantis signed into law a bill that gives the state control of the Reedy Creek Improvement District. The local government entity essentially allowed Disney to run as its own self-governing authority in Florida for more than 50 years.
While not dissolving the Reedy Creek Improvement District, the new board will oversee the government services that the Disney district provides. These include fire protection services and utilities. The board will also ensure that Disney's debt is not passed onto Florida taxpayers.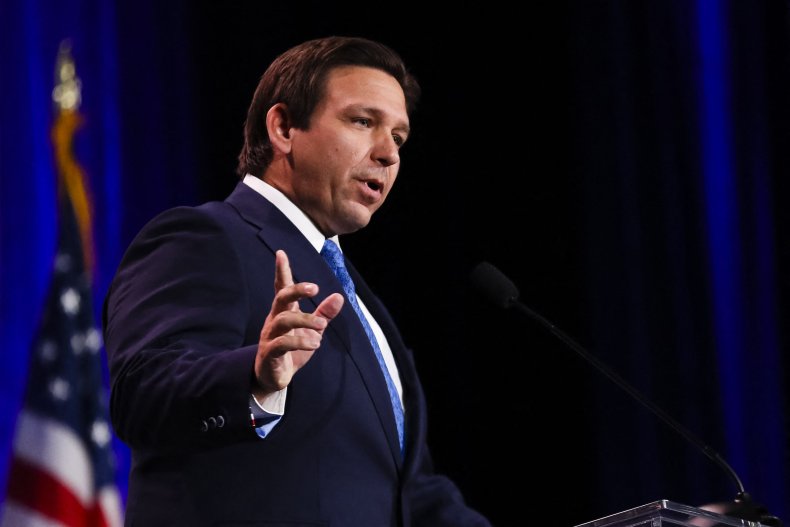 The conservative board appointed by DeSantis on the Central Florida Tourism Oversight District includes Bridget Ziegler, a Sarasota County School Board member and co-founder of advocacy group Moms for Liberty. Also on the board is Martin Garcia, chairman of private investment firm Pinehill Capital, who donated $50,000 to the governor's 2022 re-election campaign.
During a press conference Monday, DeSantis hinted that the new conservative board will not only take control of Disney's self-governing body at its theme parks. It may also have an influence in stopping the company "trying to inject woke ideology" on children in the content it produces.
"When you lose your way, you've got to have people that are going to tell you the truth," DeSantis said. "So we hope they can get back on. But I think all of these board members very much would like to see the type of entertainment that all families can appreciate."
While the board doesn't have direct power over the creative content, it could prove to be a highly influential body because it has a say in the money Disney is allowed to spend.
As noted by The Washington Post, a Disney employee who was present at the bill signing gave Little Demon as an example of the apparently dangerous content being produced by Disney. It is an adult animated series about Satan's teenage daughter that is streamed on FX Networks, a subsidiary of Disney Entertainment.
Speaking to WPTV, Democratic Florida Senator Linda Stewart expressed concerns about the potential influence the board will have over Disney.
"I think when we dig deeper into who these appointments are, it's going to become evident that they're going to do whatever the governor wants to see done," Stewart said.
DeSantis has feuded with Disney for the past year after the company voiced opposition to the controversial legislation critics dubbed the "Don't Say Gay" bill. This bans the discussion of sexual orientation and gender identity in certain grades at Florida schools.
The move thrust Disney, the largest on-site employer in Florida with nearly 80,000 workers, in the middle of DeSantis' and other Republicans' ongoing battle against "woke" ideology.
In what critics considered a retaliatory move, DeSantis vowed to revoke Disney's special tax privileges and tax breaks, protected under the Reedy Creek Improvement District.
Instead, DeSantis has opted to push through the bill, which would allow him to appoint the five-person board to oversee development in the Florida theme parks.
"Allowing a corporation to control its own government is bad policy, especially when the corporation makes decisions that impact an entire region," DeSantis said Monday.
"This legislation ends Disney's self-governing status, makes Disney live under the same laws as everybody else, and ensures that Disney pays its debts and fair share of taxes."
Newsweek has contacted Disney for comment.