Dissecting the Rod Rosenstein Nomination for Deputy Attorney General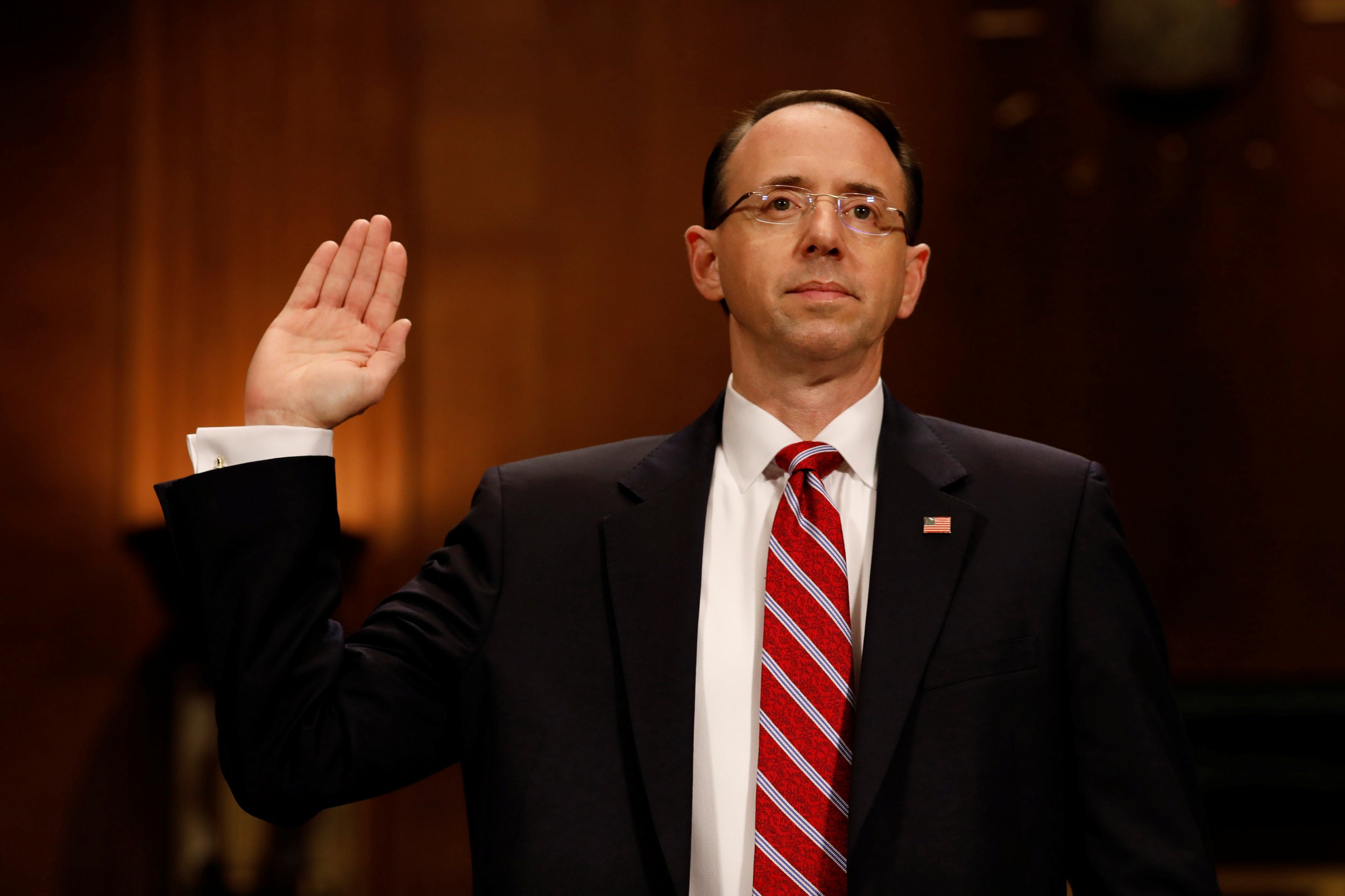 Attorney General Jeff Sessions loomed widely over the Senate confirmation hearing for Rod Rosenstein, President Donald Trump's nominee to be the second-ranking official in the Department of Justice. The Senate Judiciary Committee put Rosenstein under a microscope Tuesday, just five days after Sessions recused himself from any investigation of Russia's meddling in the 2016 U.S. presidential election. If confirmed as deputy attorney general in a few weeks, Rosenstein would lead the DOJ's daily operations and oversee probes into ties between Trump's inner circle and Russia.
Related: Jeff Sessions recuses himself from Russia investigations
Rosenstein, 52, is a longtime prosecutor who served under Republican and Democratic presidents, George W. Bush and Barack Obama, and is expected to be confirmed, as he neither identifies strongly with conservative politics nor has any particular affinity for the interests of the people surrounding the Trump organization. He also has bipartisan support, including from both of his state's Democratic senators. He currently is the U.S. attorney for the District of Maryland and oversees federal civil and criminal litigation. In all, he has 26 years with the U.S. attorney's office and the DOJ, according to the department's website.
He serves on several subcommittees of the Attorney General's Advisory Committee of U.S. Attorneys, which evaluates and recommends policies for the DOJ. He also continues to personally litigate U.S. District Court cases and in the U.S. Court of Appeals for the 4th Circuit. He was part of the 1990s Whitewater investigation into President Bill Clinton's real estate investments in Arkansas, as well as a 2012 federal investigation into sensitive leaks that resulted in retired Marine General James Cartwright pleading guilty to making false statements about Iran's nuclear program.
Tuesday's hearing was heated at times, as senators focused intently on questions about Russia and Trump's assertion of wiretapping. Senator Amy Klobuchar (D-Minn.) says the committee's role was to impress upon Rosenstein the historic significance of allegations that a foreign entity attempted to influence a U.S. election.
Rosenstein is "as apolitical a career prosecutor as it gets at senior level," says Benjamin Wittes, a senior fellow at the Brookings Institution and editor-in-chief of the Lawfare blog. He says the main issue is not Rosenstein's integrity or independence but whether the DOJ as an institution should recuse itself and appoint an independent prosecutor.
"It's not because there's something defective about Rod Rosenstein but because we don't want the DOJ itself investigating the Trump White House or the Trump campaign," Wittes says, adding that it's not yet appropriate or necessary for the entire DOJ to step aside on this issue.
"Until we reach a point where there is a particular reason for the Department of Justice to get out of the way, I generally believe that the regular order is the best way to investigate things," Wittes says. A criminal investigation of Trump would be one example of a reason for the department to get out of the way.
Many of the committee members agree. Klobuchar tells Newsweek she likes "the idea of getting a seasoned prosecutor who has served under both a Republican and Democratic president into this role." And as Senator Sheldon Whitehouse (D-R.I.) points out, there is a demand for the DOJ to stand independently of the White House in certain circumstances, while also preparing to potentially act in opposition to the president, if necessary.
"When those circumstances present themselves, it calls upon those highest traditions of honor and independence to perform effectively," Whitehouse tells Newsweek. He adds, "Rod Rosenstein seems to come out of that tradition."
Sessions, who was confirmed as attorney general a month ago, has been criticized for failing during his Senate confirmation hearing to disclose his contacts with the Russian ambassador to the U.S.
On Tuesday, many Democrats called for the appointment of a special counsel to lead the independent criminal investigation into Russian influence in the election, while Republicans balked at the idea. Rosenstein wouldn't commit to appointing a special counsel, but he vowed to conduct an independent investigation overall. He admitted that he had not yet read the U.S. intelligence community's January 6 assessment of the Russia cyberattacks.
Both Klobuchar and Whitehouse say Rosenstein deserves the chance to work inside the DOJ and learn about whatever investigation is taking place before being asked to make a final decision on whether a special counsel should be appointed. "I think it's a little bit putting the cart before the horse, asking to agree to appoint a special prosecutor to an investigation before he's even been briefed on the investigation," Whitehouse says.
The committee's ranking member, Dianne Feinstein (D-Calif.), argued that a special prosecutor was necessary to avoid even the appearance of a conflict of interest or political influence by the Trump administration. "To be clear, I do not say this because I question the integrity or the ability of Mr. Rosenstein. I do not," she said during her opening statement at the hearing. "But this is about more than just one individual. This is about the integrity of the process and the public's faith in our institutions of justice."
But Senator Charles Grassley (R-Iowa), who chairs the committee, said he didn't see a need for a special prosecutor.
In the immediate wake of Sessions's recusal, Politico/Morning Consult polling this month showed a majority—56 percent—of registered voters support appointing a special prosecutor to investigate any ties between Trump's campaign staff and the Russian government.