Disturbing Video Shows Masked Shooter Opening Fire On Man Inches Away From Kids
A disturbing video shows a masked shooter opening fire on a man mere inches away from two children.
The video, released by the New York Police Department (NYPD), shows a masked suspect with a gun chasing after a man in the Mount Eden area of the Bronx. The incident took place on Thursday, June 17 near 6:45 p.m. local time, the NYPD told Newsweek.
As the man runs away from the suspect, other pedestrians scatter in a panic. The man then trips over two young girls on the sidewalk, knocking them and himself down.
As the man stands back up, the suspect gets behind him, points and then shoots his gun. The fleeing man then falls back down to the sidewalk. The suspect then returns to fire a second shot in the man's back. The suspect fires the gun at the fallen man once again, mere inches away from the two girls.
The suspect then runs away from the scene.
The suspect allegedly fled on a scooter driven by a light-skinned male who wore a white baseball cap, a red long-sleeved shirt and dark-colored shorts, the NYPD told Newsweek.
The NYPD has asked people to contact their Crime Stoppers Hotline if they have any information about the suspected shooter or scooter driver.
The victim was a 24-year-old male who was shot in the back and both legs, the NYPD told Newsweek. He was transported to an area hospital by private means and is in stable condition.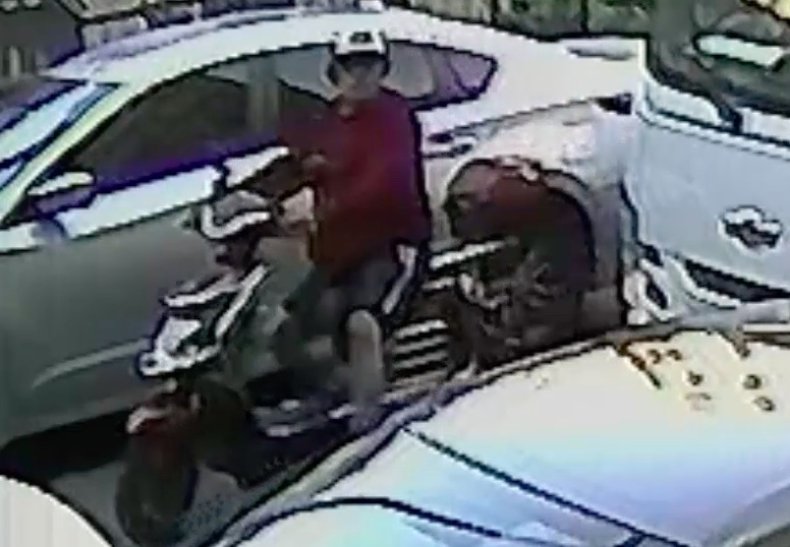 As of June 7, 687 people have been shot in New York City in 607 incidents since the start of 2021—the highest year-to-date number in a decade, according to CompStat, a statistical system used by the NYPD. The pandemic's economic and physical strain worsened gun violence in areas where it was already high, experts told The New York Times.
Crime statisticians have warned against comparing crime statistics between 2020 and 2021. In 2020, crime dropped citywide partly due to COVID-19 lockdowns. Comparatively, in 2021, much more of the city has reopened, the Times noted.
In May, New York City Mayor Bill de Blasio said that he expects gun violence to reduce as jobs and new policing strategies return to the city. However, gun violence still came up as an issue in both of the recent televised debates for the city's Democratic mayoral candidates. Specifically, candidates were asked how they would reduce the recent increase in illegal guns within the city.
Approximately 75 percent of the recent gun violence has come from conflicts between crews and gangs of young men, Michael LiPetri, the NYPD chief of crime control strategies, said in a May interview. Marcos Gonzalez Soler, head of the mayor's office of criminal justice, said such conflicts only accounted for 40 percent of recent gun violence citywide.