DIY Guru Shares Step-by-Step Guide To Create Stenciled Patio Path for $78
A stencil hack shared by an artist has gone viral on social media platform TikTok.
The post, by TV art director and interior stylist Gemma Jayne Gear, read: "Honestly this is one of my proudest DIYs ! The same effect of tiles for a fraction of the cost! From drab, to fab." It showed her followers how to decorate their patio with stencils and get the appearance of tiles.
The video shows her painting her front door patio using some black paint and a set of plastic stencils, with the total cost coming to $78. One commenter described the result as "amazing".
The video, which has so far reached almost 10,000 likes and 270 comments, shows a step-to-step guide. First, you need to clean your pathway, said Gear in the video, as the paint needs to adhere properly. The next stage is painting the patio with the base color, "do three coats and then let it dry overnight".
Once your base is done, measure the pathway to check the width and then position your stencils starting from the middle, doing the sides after you're done with the center. After that you can either use a roller or a sponge with little color and paint over the stencils, and once it's done, refine the edges with a small painting brush. When you're all finished the next step is to apply a seal coat, PVA in this case.
According to research by IBISworld, the market size, measured by revenue, of the deck and patio construction industry is $1.1bn, but its growth is set to decline by 0.8 percent in 2022.
The same research found that demand for deck and patio construction is heavily correlated with the housing sector, with over 60 percent of industry revenue generated from work on new and existing homes.
Gear's TikTok followers loved her crafty money-saving idea. One user, ver1well, said: "very good job. Well done!" Another user, flow_alignment, said: "You are so gifted. First because you came up with the design and second because you've actually made it." And justtrishes added: "that looks so inviting!" Rubengeorge05 added: "Amazing!!".
Other users revealed their own DIY-patio decorating experiences and shared tips with the artist. A user called come_the_eff_on_bridget said: Looks great, I did exactly the same! If you haven't already, seal it with PVA bond, and do it every six months."
One interested user asked what paint she used. Gear replied: "I used Masonry paint. Wilko pebble white and Valspar masonry for the stencil."
Some of the users took the chance to ask for more crafty tips. Sashibot said: "Great job! How do you keep it so neat? I feel like I get drips and mistakes everywhere and also on the backside of the stencil. Any tips?" Gear's answer was simple: "The trick is to use very little paint!! It's much better to roller over it a few times more with less paint than once with too much paint as it will bleed otherwise."
One skeptic user, pepmurphy, said: "Won't last very long. You should have sealed the concrete first, Paint will soak in and wash away with water." However, Gear answered: "The paint had a primer in it AND I used a PVA bond to seal - full video can be found on my insta. But thanks, KAREN!"
Newsweek has reached out to Gemma Jayne Gear for comment.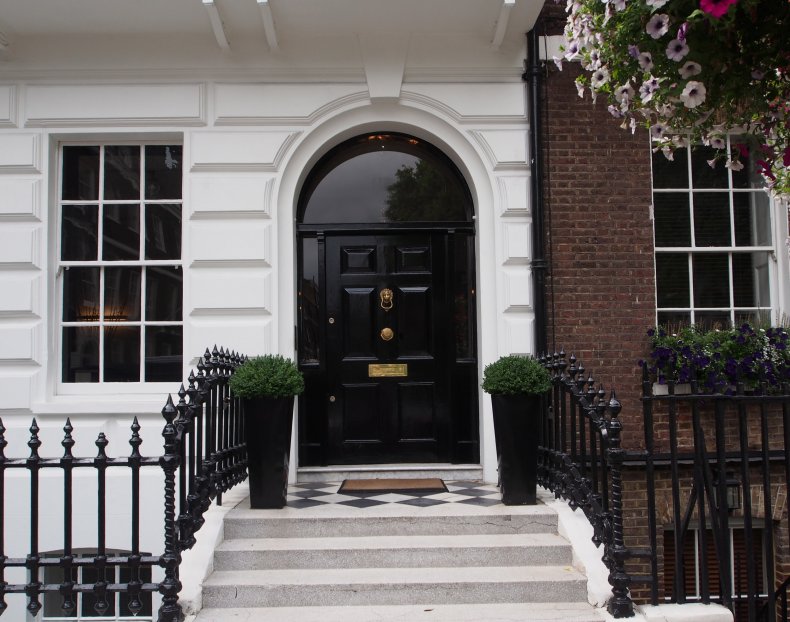 Update 05/05/22, 10:50 a.m. ET: This article has been updated to add further details.