Dj Armin Van Buuren to Play at Saudi Arabia's First Rave in Latest Sign Islamic Kingdom is Easing Restrictions
Electronic musician Armin Van Buuren will be flown into Saudi Arabia to perform at the kingdom's first DJ party.
The Dutchman, who has been ranked number one by DJ Mag five times, will play at King Abdullah Economic City on June 17 in what is seen as the latest sign that restrictions on entertainment in the Islamic kingdom are being eased, Arab News reported.
The 41-year-old was key in popularizing trance music and has played in the region before, including in Dubai, Beirut, Bahrain and Cairo. He has been nominated for a Grammy for his track "This is What if Feels Like," and has 21 entries on the Billboard Dance/Electronic Albums chart.
Backed by Saudi Arabia's General Entertainment Authority, the party is the latest Western entertainment event which appears to show the relaxing of the normally strict code of behavior.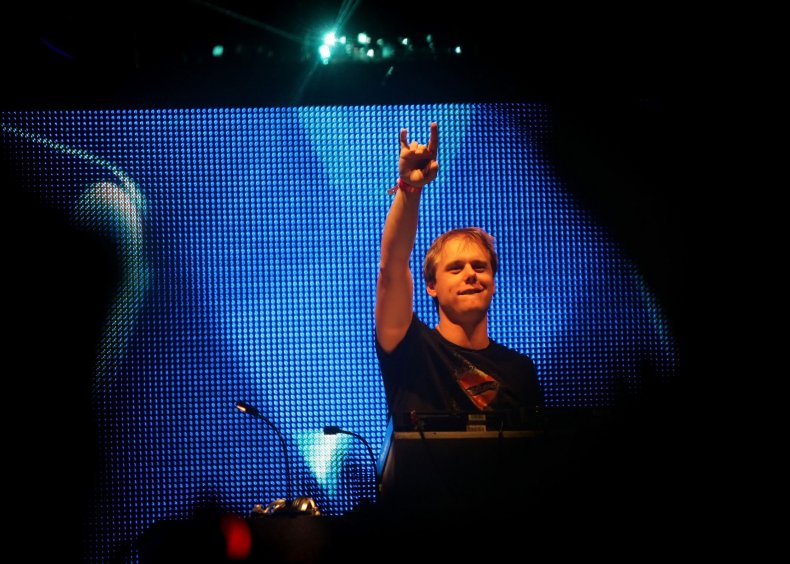 During national day celebrations last September, men and women were allowed to dance in the streets to electronic music for the first time. There are also plans afoot to lift the restrictions on cinemas, with 300 planned for opening in the next 12 years.
Women will also be able to drive for the first time under a modernizing agenda implemented by Crown Prince Mohammed bin Salman, known by his initials, MBS, whose "Vision 2030" program aims to modernize the country and its economy.
Ahead of his visit to the U.S., the son of Saudi Arabia's King Salman said he would not apologize for his luxury lifestyle following reports he had purchased a $500 million yacht and a $300 million chateau in France.
"I'm a rich person and not a poor person. I'm not Gandhi or [Nelson] Mandela. I'm a member of the ruling family that existed for hundreds of years before the founding of Saudi Arabia," he told CBS News.
MBS spearheaded a clampdown on corruption in which businessmen and officials were arrested and $100 billion in financial settlements seized. Critics say it was a purge of his rivals and consolidate power.
He has also reportedly hidden his mother from his father so she will not get in his way of his growing power. Others have raised doubts about how serious he in his vow to return the country to "moderate Islam," as he claimed in an interview with The Guardian.
Despite the loosening of restrictions, Saudi Arabia is still criticized for its male guardianship system, where an adult women needs male permission to travel, marry or even leave prison.