DL Hughley Shares Articles Critical of Ice Cube and Starts a Twitter Beef
DL Hughley doesn't seem impressed by Ice Cube's recent political actions. The comedian shared several tweets that slammed the rapper's apparent attempt to join the political conversation about race. Hughley shared an Medium article titled "Ice Cube Isn't Winning at Chess — He's Losing at Poker."
Cube simply responded with an emoji of the middle finger.
"If you take him at his word, Ice Cube is attempting to do something very noble: He wants concrete political change for Black people in real time, in exchange for Black support at the polls in (checks watch) two weeks," the article notes, later adding: "Cube is promising votes he can't deliver for money he's unlikely to get for change it can't cover.
"He's not an elected representative, he hasn't organized a voting bloc, he's duplicating efforts across the board, and it's unclear if he's brought anything to the table besides name recognition."
Hughley also retweeted an article titled "Ice Cube Retweets Video That Compares Joe Biden to Hitler."
Hours later, Cube seemed to respond to the article Hughley shared. "I hope all these people with podcast and radio shows telling the world I'm too unqualified and uneducated to talk about a document I created, don't get asked to pull out their Communications degrees and show you they are qualified and educated enough to speak to you over airwaves," he tweeted Monday morning.
He also wrote: "Guess I wasn't qualified when I helped #ADOS get Gov. Gavin Newsom to sign AB3121 Into law."
Cube recently entered into the accompanying fray of this year's presidential election. He has yet to endorse Joe Biden, or, President Donald Trump, and when he appeared on Cuomo Prime Time this past Friday, he clarified his political stance. "I'm not on nobody's team," Cube said. "I'm not on team blue or team red."
He also called racial inequity a "bipartisan problem, when it comes to the issues, when it comes to Blacks in America and what's going on. It's not a Democrat problem, it's not for them to solve. It's not for the Republicans to solve. It's for both of them to solve."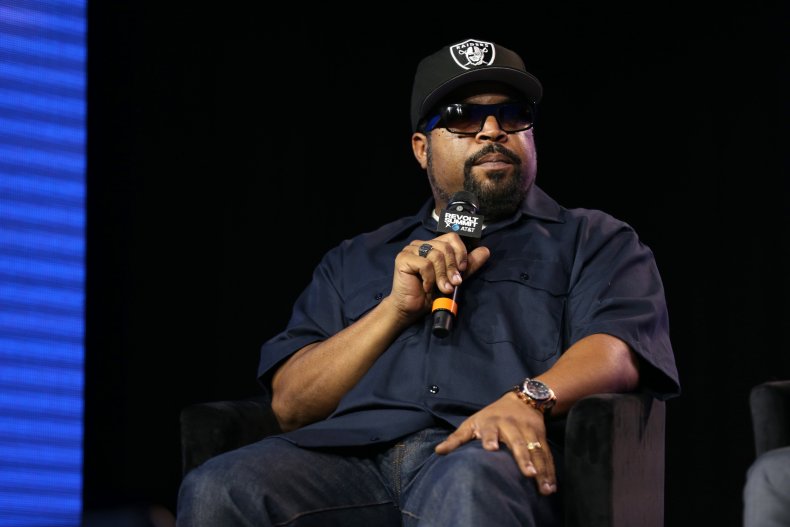 The Trump administration previously revealed that the Cube had collaborated with them on the "Platinum Plan," which was designed to help Black Americans. He also shared a video on October 11, expressing skepticism towards politicians —namely Biden and his running mate, Senator Kamala Harris.
"Everybody's been mad at me, cause I haven't been on the f**king-y'know-the gravy train of these candidates, especially Joe Biden and Harris. I don't trust none of them. No president has done right by us. So I don't trust none of them," he said at the time.
Newsweek reached out to Ice Cube for comment and did not hear back at the time of publication.