DMX Videos of Iconic Woodstock '99 Performance Watched Over 5 Million Times
Fans of DMX, the rapper whose death was announced by his family on Friday, have been celebrating his life and music all week.
Touching videos showing his humanity went viral earlier this week amid an outpouring of support from fans and celebrities.
The 50-year-old musician, whose real name was Earl Simmons and who died after suffering a heart attack last weekend, also won praise for his iconic performance at the Woodstock 99 festival.
Before his death was announced on Friday, two clips from the show had gone viral on Twitter, amassing more than 5 million views.
"One of the most iconic performances ever," Twitter user Topid captioned one of the clips.
Fringe actor Kirk Acevedo shared one of the clips, describing DMX as "one of the greatest to ever do it."
After the rapper's death was announced, Acevedo wrote: "Rest In Power DMX. U kept it 100 all the time! They don't make people like you anymore. This is truly heartbreaking!"
DMX performed hits such as "Get at Me Dog" and "Damien" to a 200,000-strong crowd at Woodstock 99, with the performance in July 1999 generally considered one of the best live hip-hop shows in history.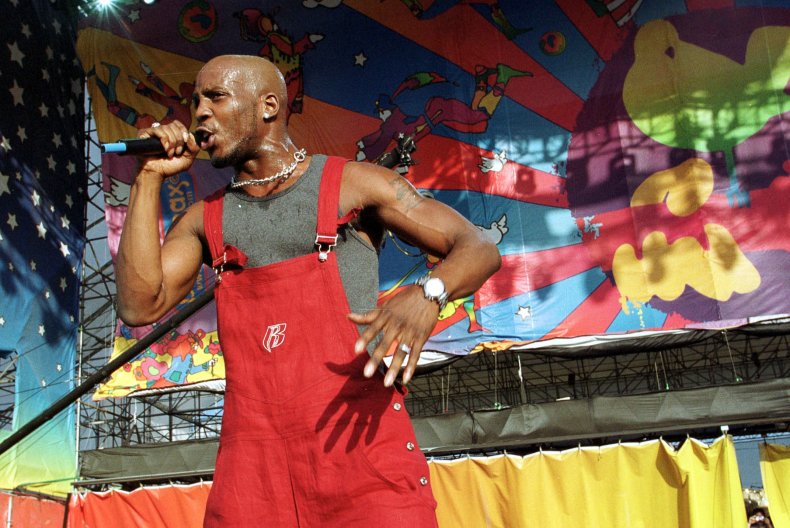 A 2020 Guardian article looking back at the performance said DMX's set "proved rappers could be rock stars, too, writing the blueprint for the punk rap theatrics of a new generation that included Denzel Curry, Slowthai, Rico Nasty, Bob Vylan, XXXTentacion, Tekashi 6ix9ine and Jpegmafia. Each has cited DMX as a major influence."
Watch the full performance on YouTube here:
A video shared to Twitter on Tuesday showed DMX and his young daughter on a "Sling Shot" ride during a trip to Orlando, Florida, in 2018. It had garnered over 43,000 views by Wednesday evening.
The rapper can be seen comforting his frightened daughter during the ride. He holds his daughter's hand in the video and says, "Daddy's here" and "It's OK, mama."
DMX died at White Plains Hospital in New York. His family's statement, obtained by Pitchfork, read: "We are deeply saddened to announce today that our loved one, DMX, birth name of Earl Simmons, passed away at 50 years old at White Plains Hospital with his family by his side after being placed on life support for the past few days. Earl was a warrior who fought till the very end.
"He loved his family with all of his heart and we cherish the times we spent with him. Earl's music inspired countless fans across the world and his iconic legacy will live on forever," it continued.
"We appreciate all of the love and support during this incredibly difficult time. Please respect our privacy as we grieve the loss of our brother, father, uncle and the man the world knew as DMX. We will share information about his memorial service once details are finalized."