'Do Better': Woman Says Walmart Employees Caused Mom's 'Anxiety Attack'
A Walmart customer allegedly had an anxiety attack when employees accused her of stealing, and the internet is rallying around her.
The altercation was posted on TikTok by the customer's daughter, accumulating over 9.7 million views since Thursday. The poster, Terrionna Yancey, alleged that four employees at a Walmart store in Galesburg, Illinois, caused her mother's anxiety attack after she exited the self-checkout.
"They grabbed her on her way out and accused her of stealing in a store full of people laughing and recording, thinking she actually stole something," Yancey said.
She claimed the employees never apologized, posting the video to social media to urge them and the company to "do better."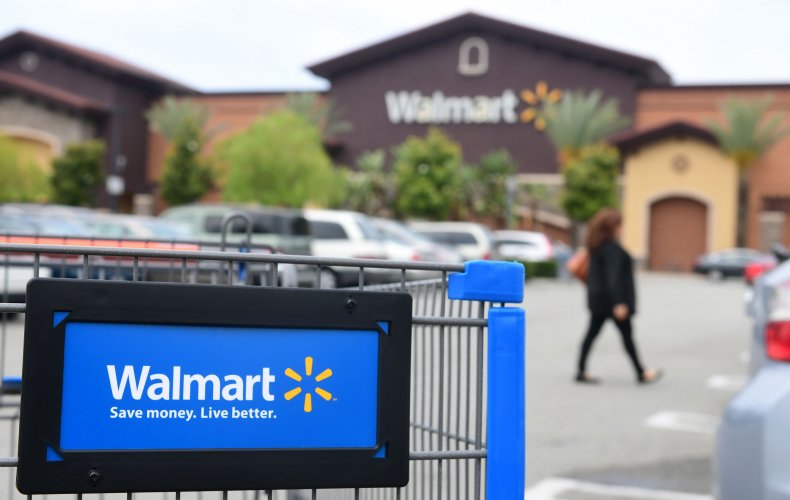 "You guys treat everyone like this?" the customer, or Yancey's mom, asked the two employees rummaging through the items in her shopping cart.
"Ma'am, we have treated you with utmost respect," said an employee named Alec.
"You drug me through Walmart like I stole, and you said, 'Go to the room and give her my ID.'...This is the most embarrassing thing ever when you come to Walmart and come here every day and spend hundreds of dollars—I spend hundreds of dollars in this store a week," said the woman, recording the entire ordeal.
Her shopping cart included multiple cartons of eggs, bread, soda and bottled water. One employee emptied the entire cart and placed all the items on the floor, while another employee checked off items on the customer's receipt.
As the woman was expressing her frustration as they checked her cart, Alec told the customer he didn't need her "commentary."
When all the items were accounted for on the receipt, Alec told the customer that soda and bottled water had not been scanned yet. The customer refuted this, saying she did scan them.
"They have not," he said. "It's not on the receipt."
But the female employee documenting the items on the receipt said, "Everything was scanned."
When the customer asked for an apology from Alec, he responded, "I misunderstood" and the video was cut off. No apology was ever captured on video.
Yancey wrote that her father had to go to the store to calm his wife due to her panic attack. All of the items in the cart were later returned, she added.
TikTok users were not kind towards the employee, Alec, due to his demeanor. Many thought he took his role too seriously, with one person saying it's as if he thinks he works "for the FBI."
"He looked so happy when he thought it wasn't scanned," a user commented.
Another user named Dia said, "he should be fired," citing his attitude and reaction. "I wouldn't want to shop where he works," she added.
"Even after finding out he was wrong he still never apologized!" one shocked user said. "Wowww."
"I wish I would've been with her cause this wouldn't of [sic] happened," Yancey responded. "I would've never let her stop!"
Yancey added that her mother did call the store's corporate office to submit a complaint, but nobody answered. She said her mother did talk to a lawyer.
In 2015, A Fortune article estimated that Walmart loses $3 billion per year to theft, which is one percent of its annual $300 billion revenue.
In 2019, Insider reported that according to a survey of 69 retailers, theft and fraud cost retailers $62 billion in 2019—up 51 percent from the previous year.
Newsweek reached out to Walmart for comment.
This incident is the only time Walmart has made the news recently.
A woman was kidnapped from a Walmart parking lot and was later found in a remote gravesite in Nevada, and a suspect has been charged.
And police said a man tried to rape a woman inside of a Florida Walmart in March.