Walmart Offers Six Figure Salary for Truck Drivers to Join Company Fleet
Walmart is offering new truck drivers between $95,000 and $110,000 for their first year with the company's trucking fleet as companies across the country combat what the American Trucking Associations estimated in February is a shortage of about 80,000 semi-truck drivers.
The wages offered to new drivers are about 26 percent higher than the previous average for new hires, and drivers who have been with the company will be able to earn higher rates, a Walmart spokesperson told Bloomberg.
Trucking companies and retailers with their own trucking fleets like Walmart have offered similar benefits in recent years to attract truckers and end the shortage that experts have said affects supply chain issues and causes price hikes. However, some in the industry are still frequently leaving the jobs due to either being burnt out by the demands of the job itself or simply for better pay or benefits at another job.
In February, Newsweek reported that issues at various points along the global supply chain, including trucking services, have contributed to supply shortages and increased prices over the last two years.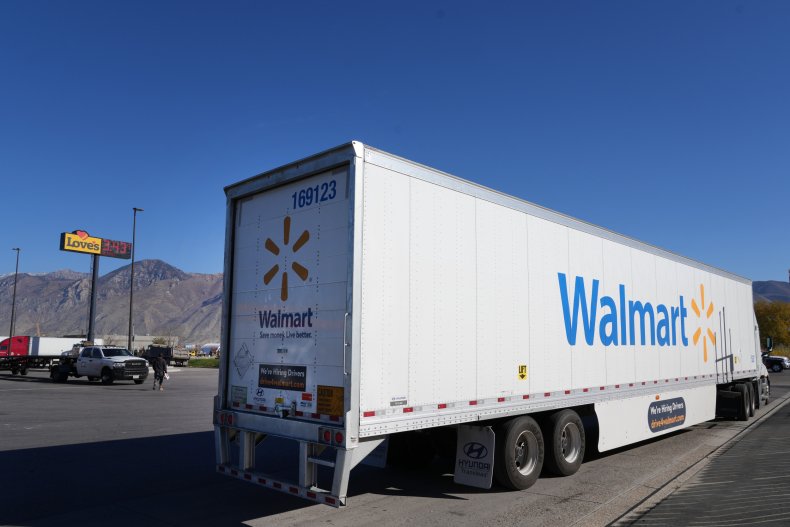 The new salaries from Walmart would be about double the average annual salary for truck drivers, which the Bureau of Labor Statistics estimated to be around $50,000 last year. Walmart currently employs around 12,000 drivers, and Bloomberg reported that about 7,000 of those have been hired over the last two years.
In addition to the pay raise, Walmart also announced the launch of a new driver training program, in which employees throughout the country have already earned their commercial driver's license through a 12-week course.
Walmart said the pay increases and other investments into bonuses and easier schedules would allow drivers to spend more time at home. Long haul trucking often means spending significant time away from home while driving across the country.
"Our transportation team will continue to grow with our business, and we'll continue to invest in them along the way," Fernando Cortes, Walmart Senior Vice President of Transportation, and Karisa Sprague, Senior Vice President of Supply Chain People said in a joint statement. "It's an exciting time to be part of one of the world's largest Private Fleets and we plan to keep hiring the best drivers in the industry to join our team."
Last year, the company offered sign-on bonuses up to $8,000 to new drivers as several companies offered similar bonuses up to $15,000 to address the shortage of truckers across the country, Insider reported.
Update 4/7/22, 1:20 p.m. ET: This story was updated with additional information.
Update 4/7/22, 12:30 p.m. ET: This story was updated with additional information and background.