'Do I Even Try to Cook?': Woman Breaks Down Taco Bell Diet in Viral Video
Commenters on a viral TikTok were torn after one woman broke down the favorable economics of eating Taco Bell burritos for every meal of every day.
Posted last week, the viral video shared by TikTok user @ed.edd.n.eden has racked up more than 563,000 views and has been liked nearly 60,000 times.
In the video, @ed.edd.n.eden can be seen sitting in the front seat of a parked car, eating a burrito. Applying extra Taco Bell hot sauce between each bite, the TikToker used the video's text overlay to propose a cost-effective diet, as well as ask one important question.
"Why do I even try to cook?," the overlay reads. "This Taco Bell burrito was $1.11 and tastes so much better than anything I could cook."
"If I ate one for every meal during the week I only spend $23.21 which is a lot lower than my current grocery bill," it continues. "Might be a good investment."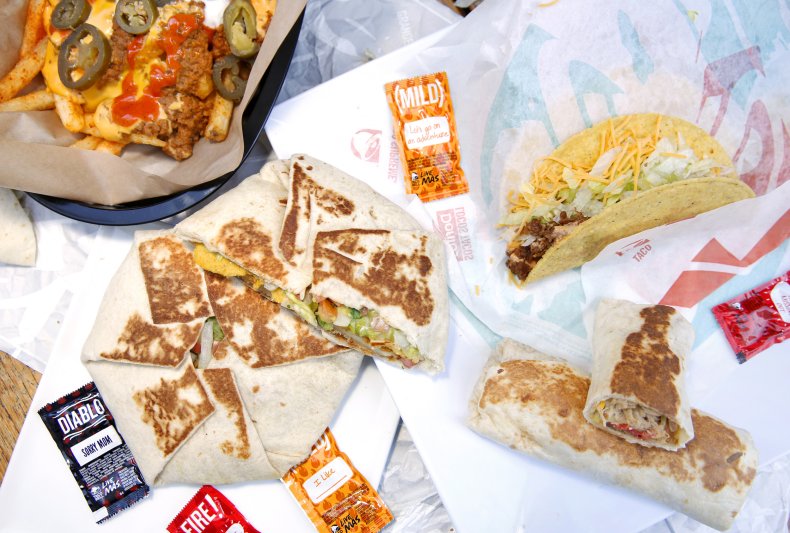 Each month, the U.S. Department of Agriculture releases suggested food spending plans for Americans concentrating on buying groceries and cooking at home.
These plans, intended to provide specific "quantities of food and beverage categories that can be purchased and prepared to make healthy meals and snacks," are broken into four separate tiers: thrifty, low-cost, moderate-cost and liberal.
For a single woman between the ages of 19 and 50, suggested weekly grocery budgets range from $50.10 at the thrifty tier, $54.20 at the low-cost tier, $66.20 at the moderate-cost tier and $84.70 at the most expensive, liberal tier.
However, as @ed.edd.n.eden noted in her viral TikTok, eating a single Taco Bell burrito (likely the "Cheesy Bean and Rice Burrito" which clocks in at $1 on Taco Bell's menu) for breakfast, lunch and dinner every day of the week is a much cheaper option than any of the plans suggested by the USDA.
With added financial pressure resulting from surging inflation rates, which passed the 10 percent mark last month (not including average fuel prices, which AAA reports have risen past $4.20 per gallon of regular gas nationwide), Americans in all corners of the country have searched for ways to save money.
For some, that means relying on fast food options, such as Taco Bell, instead of making regular trips to the grocery store.
Throughout the comment section of the viral TikTok, users both agreed with @ed.edd.n.eden that eating Taco Bell on a daily basis is cost-effective, and warned of the potential pitfalls of a dollar-burrito-exclusive diet.
"I say this to people that tell me it's cheaper to cook yourself," TikTok user @rachiek27 commented. "I can't make burgers and burritos for $2 are you kidding."
"I make this argument every week with my husband," another commenter added.
TikTok user @shotinthedarkx made it clear that they agree with the logic set forth in the viral video.
"Once you start eating Taco Bell for every meal, that's when life truly begins," they commented.
"Gotta factor in the medical bills," @when_all_else_fades chimed in.
"This was my dad's logic so he fed me Taco Bell for breakfast and lunch every day and I have Crohn's now bestie so maybe don't," another user added, in opposition.
In a separate comment, which has received more than 5,000 likes, TikTok user @jl144_ supported the idea of a strict Taco Bell diet, and encouraged @ed.edd.n.eden to stockpile the burritos in order to avoid further inflation increases.
"Buy them all at once and freeze them to avoid price fluctuations," they commented.
"Live más," they added, invoking the fast food chain's signature slogan.
Newsweek reached out to @ed.edd.n.eden for comment.