Do Not Resist: Memo Bans Federal Employees From Discussing Donald Trump Impeachment
Federal employees are forbidden from using or displaying popular anti-Donald Trump terms while on duty, under an interpretation of the Hatch Act, a U.S. law passed in 1939.
A memo sent on Wednesday by the Office of Special Counsel (OSC)—no relation to Robert Mueller's department—advised federal staff members against using the protest slogans "resistance," "#resist" and "#resistTrump." Advocating for the president's impeachment is also forbidden.
The slogans are often used online to show opposition to the president's activities and are popular on social media platforms and forums, including Facebook, Twitter and Reddit. Some federal staff may wear political badges or have discussions via email during work.
The OSC is an independent U.S. agency that enforces a number of statutes, including the Hatch Act, a law that limits the political activities of federal, some state, Washington, D.C., and local government employees. The law is designed to ensure that federal programs are managed in a nonpartisan fashion so that federal employees "are advanced based on merit and not based on political affiliation.​​​​"
In a decision questioned by legal experts, the OSC sent the memo to federal workers this week in an attempt to address queries that it received about the use of politically-charged terms.
Essentially, the office warned that such terms as "resistance," "#resist" and "#resistTrump" were considered "political activity." And the same went for calling for Donald Trump to be prematurely removed from office.
"Advocating for a candidate to be impeached, and thus potentially disqualified from holding federal office, is clearly directed at the failure of that candidate's campaign for federal office," it said. "Advocating against a candidate's impeachment is...also considered political activity."
As noted by The New York Times, the office rules remain strict, as Trump is potentially running for re-election in 2020. Federal employees, therefore, should not be allowed to comment.
The OSC memo elaborated: "We understand that the "resistance" and "#resist" originally gained prominence shortly after President Trump's election in 2016 and generally related to efforts to oppose administration policies. However, "resistance," "#resist" and similar terms have become inextricably linked with the electoral success (or failure) of the president."
The notice continued: "We must presume that the use or display of [the terms] and similar statements is political activity unless the facts and circumstances indicate otherwise."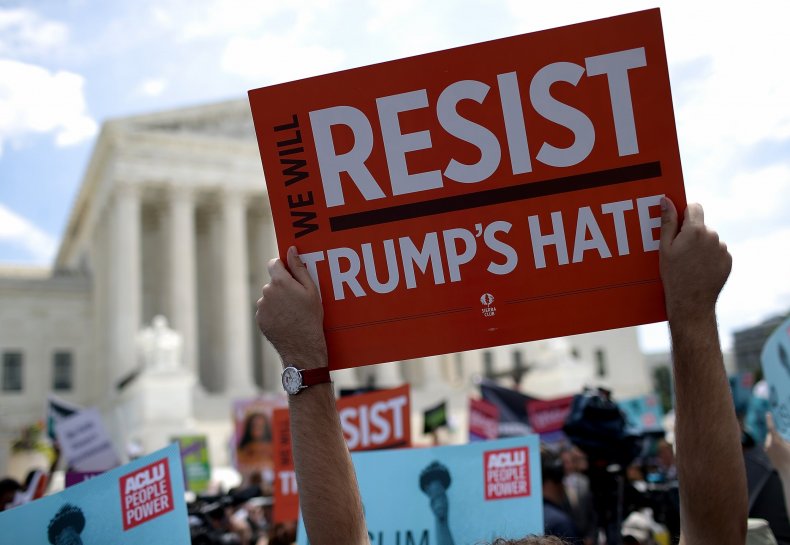 Officials acknowledged the rules applied only to federal employees while they were on duty in the workplace, wearing an agency uniform or while invoking a position of authority. It confirmed that staff members were free to engage in political dissent on their own time—outside federal walls.
The warning was challenged by some academics. Kathleen Clark, a law professor at Washington University in St. Louis, told The New York Times that the move went further than ever before.
"This goes beyond past guidance about what partisan political activity is and is more restrictive of speech of federal employees than past guidance that I've been able to find," Clark said.
"I think their legal analysis is wrong in this attempt to outlaw all discussion of impeachment of Trump in the federal workplace," the professor told the newspaper, adding: "Maybe that is a good idea, maybe that is a bad idea, but I don't think that is what the Hatch Act requires."
Other legal experts highlighted the murky nature of the law. Wearing an "Impeach Trump" badge is very different from discussing a news story about the president, for example.
This year, the 1939 law drew media attention after the OSC found Counselor to the President Kellyanne Conway had violated the law during two television interviews. Conway, the agency said, used her position to give an "implied endorsement" to a Senate candidate.
Last month, similar claims were made against White House press secretary Sarah Huckabee Sanders, who posted a picture with Kanye West while he donned a "Make America Great Again" hat. In September, Stephanie Grisham, a spokeswoman for first lady Melania Trump, was reprimanded for breaking the Hatch Act over a July tweet about working for the president.
"Although the president and vice president are exempt from the Hatch Act, their employees are not," the OSC report warned in its decision against Conway, published last March.