Do Videos Show Tsunami, Nuclear Plant Explosion in Turkey After Earthquake?
Horrifying scenes of the deadly 7.8 earthquake in Turkey and its immediate aftermath are depicted in hundreds of genuine and verified videos circulating on social media.
But despite the extensive (and often hard-to-watch) coverage of the natural disaster, once again misinformation agents are pouncing on the hot topic with misleading and out-of-context content, often used to stoke fear and fuel speculation.
Newsweek Misinformation Watch looked at some of the more prominent clips and viral posts, including those purporting to show a tidal wave from the quake hitting a Mediterranean coastline and a supposed "nuclear power plant" blast.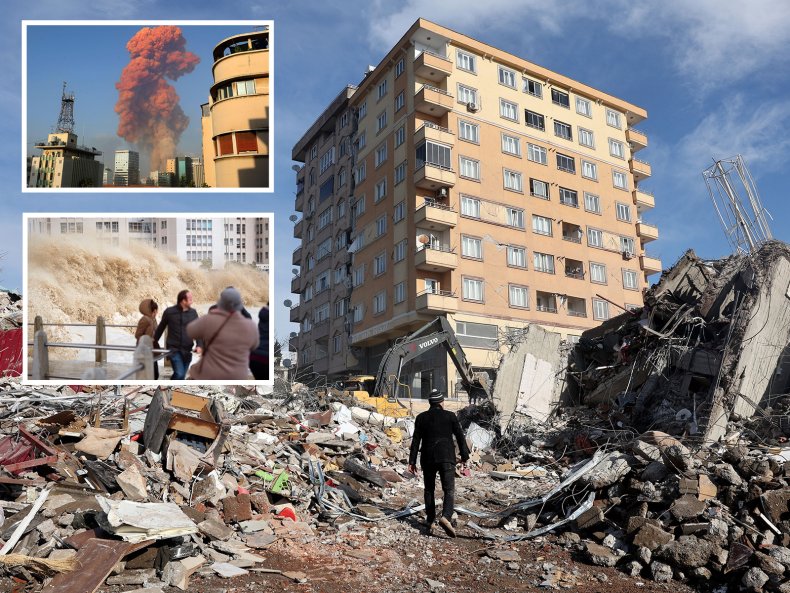 As Newsweek reported in the past, major global events and catastrophes often act as a magnet for speculation and falsehoods, not least because content sourced from conflict or disaster zones is often hard to verify before it spreads far and wide.
The devastating earthquake in southeastern Turkey, which has already taken the lives of more than 5,000 people and displaced thousands more, has been no exception, with old content decontextualized and miscaptioned to misleadingly tie it to the earthquake.
Footage of what appear to be tsunami waves hitting a coast line has been shared on Twitter, falsely linked with the Gaziantep quake.
"#Tsunami and Earthquake in Turkey. #earthquake," a verified Twitter account CBKNEWS121 claimed in a post viewed more than 120,000 times.
Another account, which referenced CBKNEWS in the post, separately shared a clip of a huge explosion recorded from afar.
"BREAKING: Nuclear plant explode due to #Earthquake in #Turkey. Not confirmed Is this real?" the caption said.
But both videos are dated, and do not show anything related to Turkey or the megaquake that hit it on Monday, February 6.
The first clip was in fact showing a series of huge waves hitting the Durban North Beach in South Africa in March 2017, as seen in this news report from the time (timestamp 1:33). While it was not an actual tsunami but simply a freak event, part of a "cyclone swell," the beach was briefly closed to the public because of the threat to life.
Despite multiple confirmed aftershocks following the main tremor near Gaziantep, it has not led to devastating tsunamis in the Mediterranean so far (though a small wave was reported off the coast of Cyprus). There was a tsunami warning issued by Sicily's civil protection department after the initial M7.8 tremor hit, but it was later withdrawn.
The second video does not show a "nuclear plant" explosion, but rather the infamous 2020 Beirut port blast, photos and clips of which went viral on social media and were widely reported in the press at the time.
The blast, which was caused by a large amount of ammonium nitrate stored in a local port storage facility igniting, killed dozens and left hundreds wounded. The terrifying footage has since regularly resurfaced on social media, being misleadingly tied to other events, such as the Russia-Ukraine war.
Other similarly decontextualized footage has also re-emerged on the back of the tragedy in Gaziantep, such as clips of a collapsing condo in Florida or a building being demolished in Saudi Arabia in April 2022, both of which were falsely tagged as Turkey, receiving millions of views.
These examples are just a few of hundreds of misleading posts surrounding the natural disaster in Turkey, and highlight the need for a critical eye and verification when it comes to visual content relating to developing situations, from readers and journalists alike.