Federal Authorities Arrest Doctors Campaigning to Give Migrants Free Flu Vaccinations
A group of doctors seeking to provide detained migrants with free flu vaccinations say they were arrested by federal authorities on Tuesday. They had been protesting outside the Border Patrol's San Diego headquarters over the immigration agency's resistance to their bid.
In a statement sent to Newsweek, Doctors for Camp Closure, a group founded by physicians opposing the detention of migrants in the U.S., said several doctors were arrested at the Border Patrol building.
"We are licensed medical doctors and practitioners with decades of experience. The Trump administration has left us with no choice but to show up at the San Diego Border Patrol Headquarters and beg to provide life-saving medical care for these children," the group said. "We have already written to immigration officials and tried to set up meetings with them as well—but they are ignoring us and children's lives are at risk as a result. We will not stand down."
In an update published to Facebook, the Doctors for Camp Closure group later said everyone arrested on Tuesday was "safe."
"They were taken into custody, detained, cited and then released," the group said. "No one came to physical harm, thank goodness."
According to Lt. Scott Adkins of the Chula Vista Police Department, federal authorities arrested several protesters outside the Border Patrol station. It is unclear what exactly they were detained and cited for.
"My understanding was that it was federal authorities that made the arrests," Adkins told Newsweek.
He said his department did have some officers present at the Border Patrol headquarters to monitor the situation and "make sure things didn't get out of hand."
"Our department wasn't involved in any arrests," he said.
For weeks, doctors have been campaigning to be allowed to provide detained migrants with free flu shots. With flu season getting off to an early start this year, they have sought to ramp up calls for the U.S. Customs and Border Protection (CBP) agency, which oversees the Border Patrol, to take action.
In an interview with Newsweek on Tuesday ahead of the day's protest and subsequent arrests, Dr. Marie DeLuca, an emergency physician from New York City and one of the founders of Doctors for Camp Closure, said physicians felt it was their duty to stop people from "needlessly suffering and dying."
In the last fiscal year, at least three children, ages 2, 6 and 16, died of influenza while in federal custody, with it recently being revealed that 16-year-old Carlos Gregorio Hernandez Vasquez had been left lying on the floor in a holding cell for hours after falling sick before he was found dead.
In early November, DeLuca and fellow organizers of the free flu shot campaign had sent a letter to immigration officials requesting "immediate permission" to access CBP facilities in San Ysidro, California, in order to run a pilot program providing 100 doses of the influenza vaccine "at no cost to the U.S. government or its agencies."
They had hoped to show the CBP how simple–and effective–it would be to institute such a program in the long term.
Officials ignored the letter, however, with CBP spokespeople telling Newsweek repeatedly this past week that it does not make for their agency to oversee flu vaccinations given that detained migrants are only meant to be held in their custody for a maximum of up to 72 hours.
On Tuesday, the Department of Homeland Security's (DHS) press office ramped up federal opposition to the initiative, with the department's press office lashing out at doctors. A statement published on Twitter said: "Of course Border Patrol isn't going to let a random group of radical political activists show up and start injecting people with drugs."
It is unclear what prompted the statement or whether the DHS is aware that the protesters are qualified doctors and that the "drugs" they are offering are flu vaccines.
The statement also came after DeLuca had told Newsweek that CBP officials had just been starting to express some interest in the pilot program, telling an organizer in a meeting that they were not opposed to the idea of facilitating flu vaccinations, but were doubtful that such an initiative would become a reality.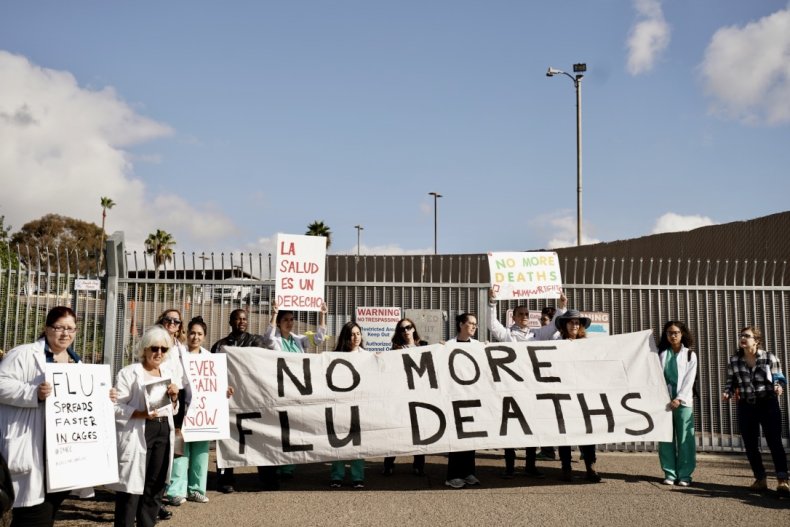 "We are guarding public health," added Dr. Peter Bretan, a transplant surgeon and president of the California Medical Association (CMA), which represents more than 46,000 members and physicians across the state.
"We are licensed practicing physicians in California—this is what we do," Bretan said in a statement shared with Newsweek. "People died of the flu last season in these detention centers. We're trying to prevent more flu deaths. This is CMA policy. This is consistent with medical practice for the benefit of public health."
In an interview with Newsweek on Tuesday, Dr. Alia Sunderji, a pediatric emergency medicine physician who has reviewed the autopsy reports of the children who died of flu in CBP custody, said there was no excuse for CBP's refusal to carry out a vaccination program.
Noting that the Centers for Disease Control and Prevention (CDC) have recommended that migrants held under federal custody receive such vaccinations, the physician said she was "appalled" that the CBP would blatantly ignore that potentially life-saving advice.
"If Infectious disease outbreaks can be eradicated in very difficult circumstances...There's no excuse not to give the flu vaccine in CBP custody," she said. "The flu season is upon us. There's an opportunity here to prevent other children from dying and it's time to take it," the doctor added.
Newsweek has contacted CBP, the DHS and the City of Chula Vista Police Department for comment.