Doctors Urge Pregnant Women to Get Vaccinated Amid Omicron Surge
As the highly contagious Omicron variant of COVID-19 continues to drive a surge in infections across the country, doctors are again sounding the alarm about the importance of pregnant women getting vaccinated.
Worryingly low vaccination rates in pregnancy prompted the U.S. Centers for Disease Control and Prevention to issue an urgent health advisory in September, calling on all pregnant women to get vaccinated.
The CDC also recommends that those who are pregnant, breastfeeding, trying to get pregnant now, or who might become pregnant in the future, get a booster shot.
Although vaccination rates in pregnant women have risen somewhat in recent months, they continue to lag behind the general population. Only around 41 percent of pregnant people are fully vaccinated against COVID-19, according to the latest data from the CDC. Black pregnant women have the lowest vaccination rate, with about 25 percent fully vaccinated.
Dr. Sarah Cross, medical director of the Birthplace and Pregnancy Special Care Unit at M Health Fairview University of Minnesota Medical Center, worries that the characterization of Omicron as "mild" is giving some a false sense of security.
"Our benchmark is that it's mild compared to the Delta variant," Cross, who is also an assistant professor at the University of Minnesota Medical School, told Newsweek. "But it doesn't undo the fact that pregnancy is a very, very, very significant risk factor for severe disease.
"Being pregnant with COVID increases your risk of hospitalization, needing a breathing tube, going to the ICU, dying. And now there's now there's emerging evidence that having COVID while you're pregnant increases the risk of stillbirth."
Cross added: "The convergence of a more transmissible variant, a mostly unvaccinated population with a high-risk medical condition and winter will be deadly—even if the variant itself is not more deadly."
The most common concerns driving low vaccine rates in pregnant women have been fears that the vaccine could disrupt the pregnancy or harm the fetus.
But a new study has found that U.S. women who received COVID-19 vaccinations while pregnant were at no greater risk of delivering their babies prematurely. Researchers also found that vaccination did not increase the risk of delivering a baby who weighed less than usual for the number of weeks of pregnancy.
The study looked at 46,079 pregnancies that resulted in a live birth, including 10,064 among women who had received one or more doses of a COVID-19 vaccine during their pregnancies. Most received the vaccines developed by Pfizer-BioNTech or Moderna, and almost all were inoculated during their second or third trimester.
The findings should provide some reassurance about getting vaccinated during pregnancy, according to Dr. Heather Lipkind, the study's lead author and an associate professor of obstetrics, gynecology and reproductive sciences at the Yale School of Medicine.
She told Newsweek: "Hopefully, given the rapid spread of Omicron, this will make some women feel more comfortable getting vaccinated."
While it's still too early to have data on Omicron and pregnancy, Lipkind added: "We know with other variants that COVID is much more serious in pregnancy, especially in those who are unvaccinated."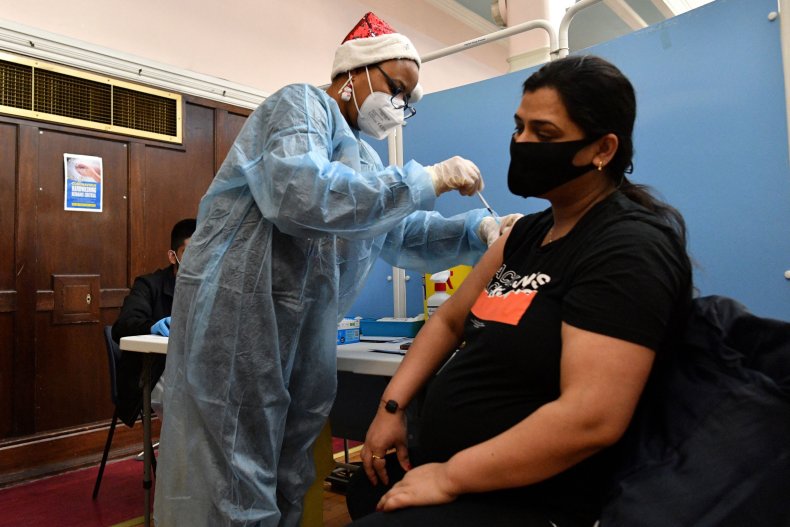 Lipkind said research had shown that pregnant patients with severe COVID-19 infections are more like to deliver preterm babies. "The more preterm you are, the more risk there is of long-term issues," she said.
"Evidence about the safety and effectiveness of COVID-19 vaccination during pregnancy has been growing," a CDC spokesperson told Newsweek. "These data suggest that the benefits of receiving a COVID-19 vaccine outweigh any known or potential risks of vaccination during pregnancy."
Cross raised concerns that misinformation, particularly on social media, was continuing to fuel vaccine hesitancy. "My plea is that for pregnant women, if they have read something that makes them worried or concerned, please ask your doctor or your midwife," she said.
"As providers, we've seen such effects from COVID and pregnancy," Lipkind added. "I'm just very concerned. I can see from our hospital what's happening, and it's hard. I really want women to get protected."
Cross also expressed concern that guidance from the CDC and doctors may not be enough to convince pregnant women to get the vaccine, particularly in communities of color.
"I feel like we urgently need some very famous Black women, maybe Michelle Obama or Kamala Harris, or some movie stars to talk about it and tell them it's safe," she said.
"If we could get famous women of color to promote the vaccine in pregnancy, I think that would go so much farther than physicians. We are all exhausted, but there is still an opportunity to save people's lives."
Updated on 1/13/22 at 4:22 a.m. ET: This article has been updated to add a comment from the CDC.