Does Brendan Fraser Have an Oscar? Actor Is a 2023 Nominee
Brendan Fraser has been widely praised for his award-winning performance in The Whale, but what are his Academy Award credentials?
The fan-favorite actor has been hotly tipped to walk away with the the Best Actor Oscar statuette at the 2023 ceremony in March, but he'll face competition from Austin Butler, Colin Farrell, Paul Mescal and Bill Nighy.
The subject of the online movement, the Brenaissance, his supporters have been celebrating Fraser's career comeback after he was seemingly blacklisted in Hollywood.
Fraser has had plenty of awards recognition in the past, but has he ever put in an Oscar-winning performance?
Has Brendan Fraser ever won an Oscar?
Fraser first appeared on our screens in the early 1990s with movies like Encino Man, School Ties and The Scout. Over the years he became renowned for leading movies like George of the Jungle, The Mummy and Bedazzled.
He also went on to star in more serious dramas, including Academy Award-winning movies like The Quiet American and Crash.
Along the way, Fraser won awards at film festivals, and was nominated for Teen Choice Awards, Saturn Awards and Blockbuster Entertainment Awards, however, he was never recognized by any of the major awards organizations, including the Oscars.
So while movies he's been in have won Oscars, no, Brendan Fraser has never won an Academy Award.
That was until 2022, when he made a star turn in Darren Aronofsky's The Whale.
Brendan Fraser's award nominations for The Whale
Fraser didn't receive any nominations for awards for over a decade until the release of serious drama The Whale.
As has been well documented, Fraser plays 600-pound Charlie, a man trying to reconnect with his daughter. His gut-wrenching turn as the character earned him dozens of nominations in 2022 and 2023.
He has already won a number of Best Actor prizes at film festivals across America and the world. Fraser was nominated for a Golden Globe Award and a BAFTA, but lost out at both to Austin Butler's portrayal of Elvis Presley in Elvis.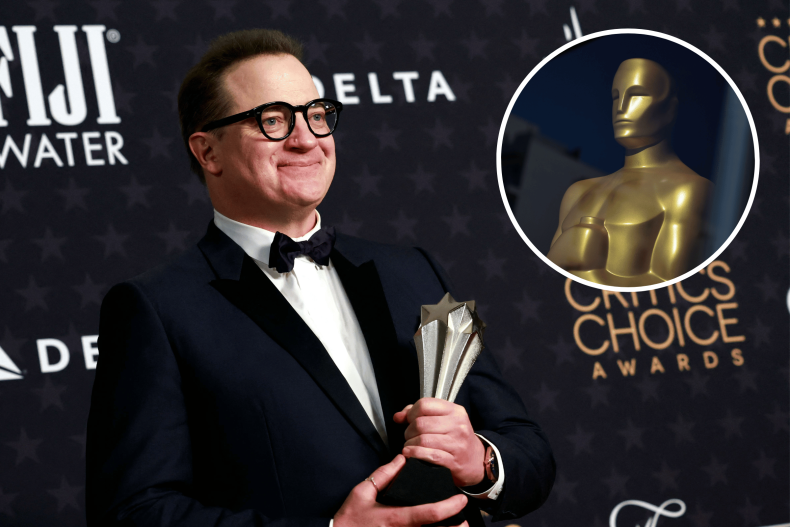 He did, however, win the Critics' Choice Movie Award for Best Actor, and in the coming weeks he'll find out if he's won the Screen Actors Guild (SAG) Award as well as the Academy Award.
The Whale has received mixed reviews since its release, and even backlash for its use of prosthetics, or a "fat suit"—but Fraser's performance has been widely praised.
Speaking to Newsweek at the London Film Festival in October 2022, he responded to the criticism saying: "I'm not a small man. And I don't know what the metric is to qualify to play the role. I only know that I had to give as honest a performance as I can."
He continued: "I'm hopeful that we can change some hearts and minds at least in terms of how we think and feel about those who live with obesity."
Oscar-nominee Aronofsky also supported the use of prosthetics to play the role. "There's no way you can cast someone to play this job, so we had to use makeup to get there," Aronofsky told Newsweek. "I welcome everyone to see the film because the film is about bringing empathy to characters that you don't expect to feel for."
The Whale is nominated for three Academy Awards: Best Actor for Fraser, Best Actress in a Supporting Role for Hong Chau, and Best Makeup and Hairstyling.
The 2023 Oscars will be held on Sunday, March 12.