Dog Accidentally Euthanized by Animal Shelter in Horror 'Human Error'
A North Carolina animal shelter has apologized and changed its procedures after it mistakenly euthanized a woman's dog.
Destiny Daniels' 2-year-old pit bull, named Kaos, was brought into custody by Pitt County Animal Services on January 22 and put into a 10-day bite quarantine.
But the dog was euthanized instead of being reunited with his owner, according to NBC affiliate WITN-TV.
Daniels told the network: "I'm not bringing home an alive dog. I'm bringing home a cold body of a dead dog."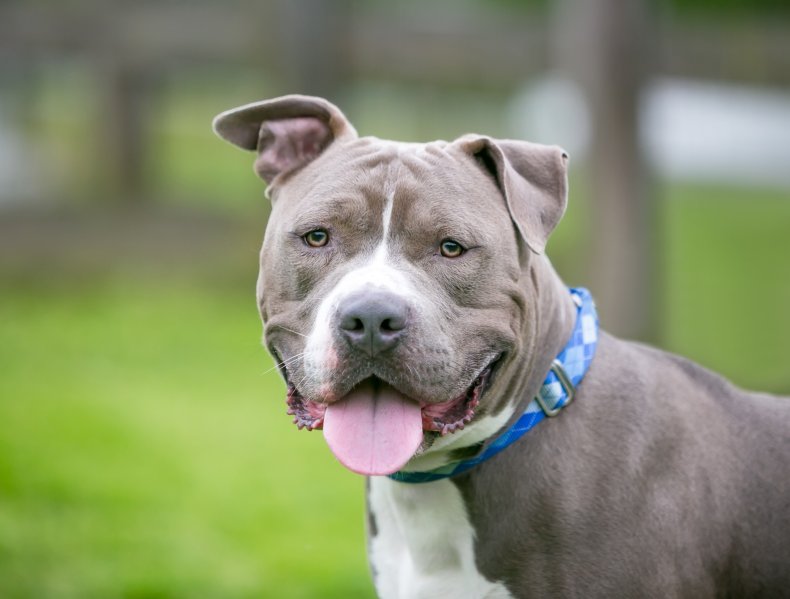 According to the American Society for the Prevention of Cruelty to Animals, approximately 6.3 million companion animals enter U.S. shelters every year and 3.1 million of these are dogs.
The ASPCA added: "Each year, approximately 920,000 shelter animals are euthanized (390,000 dogs and 530,000 cats). The number of dogs and cats euthanized in U.S. shelters annually has declined from approximately 2.6 million in 2011."
In a Facebook post on Monday, February 6, Pitt County Animal Services wrote: "Through human error, the owner's desire for the dog to be returned was incorrectly entered into the computer system. Animal Services deeply regrets this incident and offers our sincere apologies.
"During the internal investigation on Friday, February 3, 2023, the Animal Services director and the division's assistant county manager spoke with the dog owner about the incident."
The shelter said procedures would be put in place to prevent similar incidents. In future, the shelter will contact the animal owner to verify their intent for recovering the pet, regardless of what is listed on the quarantine paperwork.
The organization added: "The primary mission of Pitt County Animal Services is to safeguard public health and safety by supporting the education of our citizens on responsible pet ownership, to protect our community's animals from cruelty and neglect, and to house, care, place or provide humane resolution for animals in its care.
"We regret our mistake and through improved procedures, aim to provide the best care for all animals in our custody."
Facebook users who replied to the shelter's post were unimpressed by its response, with some calling for Daniels to get financial compensation.
Faith Audrianna posted: "This is absurd and completely unacceptable. There must be steep repercussions for all involved in this grave and tragic incident."
Destiny Mosley wrote: "If this happened to my pet I would go ballistic. Not that money would bring back my beloved animal, but you better pay me for my pain and suffering big time. Cut her a check."
Celeste Carr was more sympathetic to the animal shelter, commenting: "Nobody who euthanizes animals enjoys their job, it's only because of dire circumstances. You all need to calm down and understand it was an error.
"You aren't helping the situation by being angry. The dog did bite. It may have been an error on the dog's part also. He was at the shelter because he bit. That's where the story began. Potential dangerous dog.
"Maybe he was just reactive, maybe not. To work in animal services is a heartbreaking job. Forgive. Volunteer be part of the solution instead of the problem."
Newsweek has contacted the animal shelter and Daniels for comment.