Dog Acting Like An '80 Year Old Man' Has Internet In Stitches
A hilarious video of a Maltese poodle mix looking distinctly human has amused viewers on TikTok.
In the footage, the 3-year-old dog named Finn can be seen sitting on a sofa cushion on his back in a reclining position. It looks like he's watching TV. Finn yawns and turns towards the camera with an exasperated look on his face as owner Lauren Waldron calls his name.
The caption reads: "An 80 year old man trapped in the body of my 15lb Maltese poodle mix."
Finn's owner Lauren, a 26-year-old marketing project manager in Phoenix, Arizona, told Newsweek: "Finn is truly a human trapped in a dog body. He's feisty, mischievous, and cuddly. He sits like a person, has human looking eyes, and loves carrots. Another funny trait is around 8:30 pm he gets exhausted and we have to carry him to bed."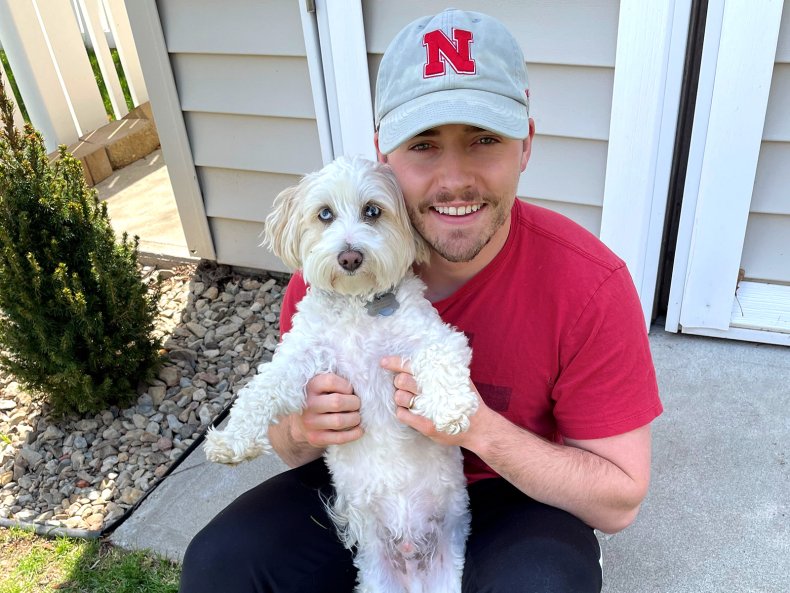 She explained that Finn is a rescue from a shelter in Omaha, Nebraska. He "had two different names and had been in two other homes before we got him. Finn can be a handful at times with his mischief! But he's always there to comfort us and is so gentle to our daughter."
One user commented, "Makes me really believe in reincarnation. I swear there is an old soul in there," to which the poster replied, "YES we say this all the time."
According to a 2021 study titled Anthropomorphism and Its Adverse Effects on the Distress and Welfare of Companion Animals, "Anthropomorphism refers to the practices in which humans attribute human emotional and behavioral features to non-human animals and objects."
The study added: "For some people, this represents a means to reinforce the human-animal connection, display empathy towards their companion animals, and show care and interest in their well-being."
There have been many reported incidents of pet owners thinking their dogs look or act in a distinctly human way. However, according to research from Business Insider, there is science behind the claims.
Many of us are very close to our dogs, and it can be easy to attribute human qualities to them. This phenomenon is known as 'baby schema.' This is when humans claim to recognize certain human features in their dog, such as baby eyes, round cheeks or a human-like smile.
In a 2022 entry to the Scholarly Community Encyclopedia, titled 'Anthropomorphism on Dog Emotions and Behavior,' it reports: "Often, anthropomorphic behavior is not supported by scientific knowledge, but rather by the human intrinsic need to relate with someone that is easily understandable and that easily understands us.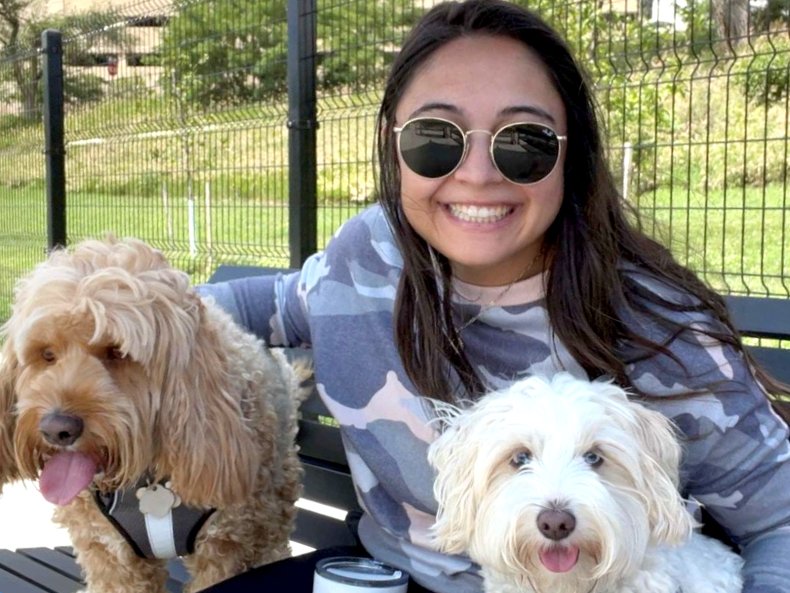 "This may lead to interpretative biases of the animal's actual state, which are often aimed to satisfy the human need for a certain type of relationship, rather than trying to acknowledge, recognize and appease the animal's actual emotions, motivations, and intentions."
TikTok viewers were delighted by the video, with one writing, "Give that man a beer, he had a long day."
User churleyhorse commented: "He already looks like he doesn't have time for whatever you're about to tell him." And hutUpCris wrote: "I imagined him wearing glasses and lowering them to hear you properly."
Do you have funny and adorable videos or pictures of your pet you want to share? We want to see the best ones! Send them in to life@newsweek.com and they could appear on our site.
Update 03/13/2023, 8:09 a.m. ET: This article was updated to include comment from the dog's owner as well as pictures.