Hilarious Footage of Dog With 'Human Lips' Has Internet In Stitches
An adorable German Shorthaired Pointer pup has stolen hearts across the internet after showing off his puckered lips in a TikTok video.
The now viral video zooms in on the dog's lips, drawing attention to his perfect pout. "Why does my dog have human lips," the videos creator had written across the clip.
Since it was shared to the social media platform on February 9 by @HunterAndGriffin, the TikTok video has been liked by over 316,000 users and commented on over 4,400 times.
The social media account appears to be managed by the dog's owner and dedicated to documenting the pup and his sibling's funny antics and growth.
The account has over 75,000 followers and is brimming with hilarious content of the two German Shorthaired Pointers, Hunter and Griffin. This particular clip has been viewed over 18,000 times to date making it @HunterAndGriffin's most popular post by far.
Why Should You Adopt A German Shorthaired Pointer?
With their roots being traceable to the 1800s, German Shorthaired Pointers are now among America's lesser known breeds. But, they make a great choice of pet according to the American Kennel Club (AKC), as long as their innate need to work and be purposeful is met.
"The GSP does best with plenty of exercise and things to do, such as running, swimming, and dog sports," the pet registry writes.
"In fact, anything that will burn some of their boundless energy while spending time outdoors with a human buddy. Their routine should ideally include ample physical activity twice a day," it continues.
The AKC advises that German Shorthaired Pointer parents prioritize their energetic dog's training and socialization.
"Early training is essential for the German Shorthaired Pointer. Socialization and puppy training classes are vital, continuing with practice in basic obedience commands," the pet registry adds.
The breed are known to be intelligent and up for a challenge. They are highly trainable and able to learn commands and behaviors quickly with consistent and engaging training sessions.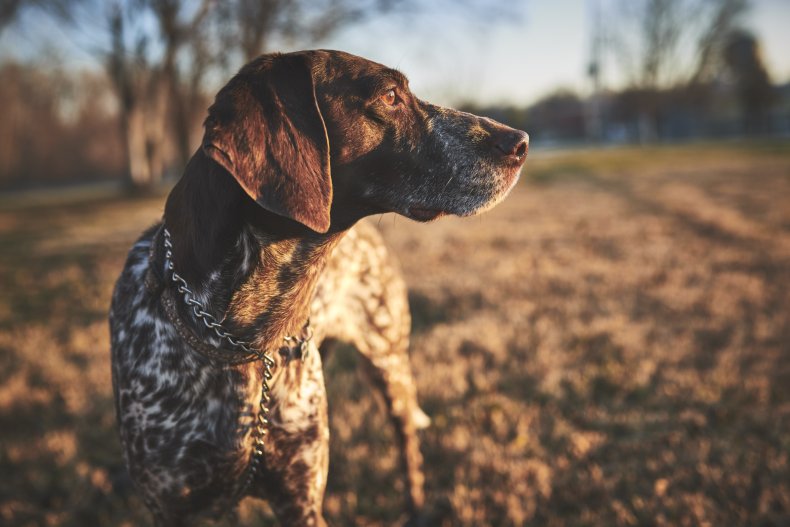 What Do The Comments Say?
Since it was shared to the social media platform, TikTok users that have been delighted by the funny post, and have given their unique takes underneath it.
"He looks like Owen Wilson," one user comically wrote, referencing the Hollywood actor.
Another user added: "Now we need lipstick."
"Maybe he's born with it, maybe it's Maybelline," shared a different TikToker.
Newsweek reached out to @HunterAndGriffin for comment.
Do you have funny and adorable videos or pictures of your pet you want to share? Send them to life@newsweek.com with some details about your best friend and they could appear in our Pet of the Week lineup.