Uncle Dog Hilariously 'Frightened' of Pit Bull Puppies as Parents Unbothered
A hilarious video of a pit bull uncle scolding the puppies in his family has generated laughs across the internet.
The TikTok video, which has over 4.4 million views, shows the uncle and the puppies' parents lounging on a sofa. Three pit bull youngsters are causing havoc by trying to jump onto the sofa.
The pit bull parents look completely unbothered by the commotion, but the uncle appears to be frightened of the excitable pups. The video has been aptly captioned: "Parents = unbothered. Uncle = frightened."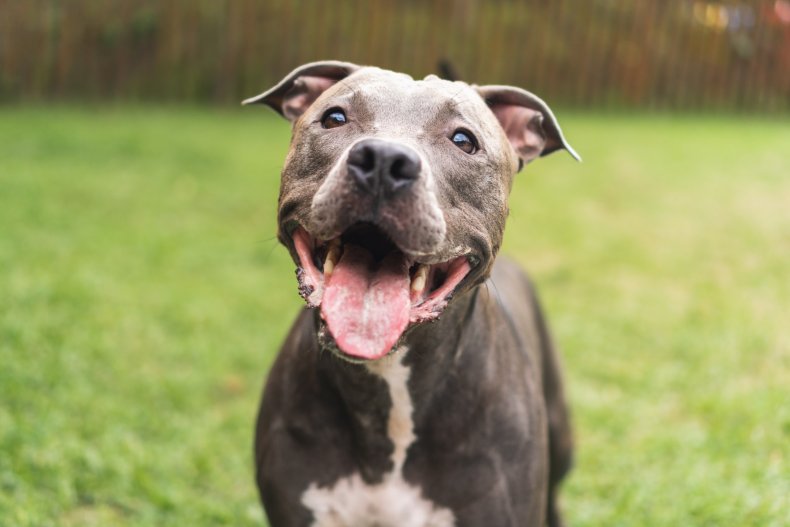 Since it was shared to the social-media platform on February 11 by @K1_Kennels, the TikTok post has received more than 895,000 likes and 1,500 comments. Most users have expressed their amusement at the uncle's discontent.
The TikTok account looks to belong to a dog kennel or boarding house based in the U.S., and has more than 12,000 followers.
Why Should You Adopt a Pit Bull?
A popular pet choice in the U.S., according to DogTime, pit bulls are well suited to novice or first-time dog owners with young children. The breed is known to be sensitive and adaptive to household dynamics.
"Their tenacity, gameness, and courage make them popular competitors in the sports of weight pulling, agility, and obedience. Of course, you can also find them living as companions, showering their humans with love and affection," the dog website writes.
What Do the Comments Say?
Since it was first posted to the social media platform, the video clip has been commented on by more than 1,000 TikTok users. One wrote: "So we just chill up here until they get tired?"
"All looking to say yeah that's why we are up here because you can't get up," another TikTok user added.
"I love how he fell, had nothing to do with it but decided he needs to make his presence known by biting his tail," wrote a third TikTok user. The video's creator responded: "The smallest definitely are the wisest."
Newsweek reached out to @K1_Kennels for comment.
Do you have funny and adorable videos or pictures of your pet you want to share? Send them to life@newsweek.com with some details about your best friend, and they could appear in our Pet of the Week lineup.