English Bulldog Terrifies Internet After Stealing Huge Kitchen Knife
A dog owner may want to start sleeping with one eye open after a video of her English bulldog running around with a knife in her mouth went viral.
The footage, shared by @delarosaofficiall, shows the moment the owner's daughter was forced to chase her mom's dog around the kitchen while it was carrying a lethal kitchen knife around.
For more than a minute, the woman can be seen trying to retrieve the sharp blade, but the stubborn dog appears to think it's a game.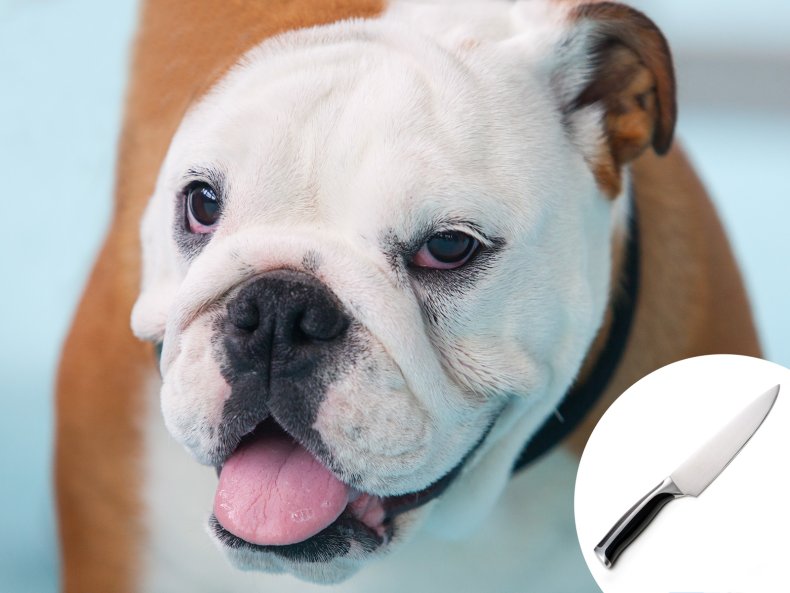 At one point, the bulldog even lies on the knife to make sure it can't be taken away from her.
Dela has since made light of the situation and captioned the clip: "She's been on a diet for a week, and isn't taking it lightly."
So far, the video has had 9.9 million views and 1.4 million likes since it was shared on February 25.
Joe Nutkins, a U.K.-based trainer with 17 years of experience, told Newsweek the best way to get something back from a dog is to avoid chasing them.
She said: "When dogs take something dangerous or valuable owners tend to follow, either at distance or try running to chase them. Dogs will then run ahead and enjoy the game of chasing they have started!
"This causes them to try it more often for extra attention! We often also try getting a treat close to the dog's nose, as seen here also, to tempt them but if they are running we often can't get close enough and if they are cornered this can sometimes cause the dog to panic and growl or snap at their owner to tell them to back off!
"If you have more than one person there, then let everyone know what's happening - in this video the dog is chased past someone just standing who could easily have caught the dog as they came past or had a lead to pop around the neck!"
Nutkins advises dog owners to back away from the dog and to act uninterested in the item. Instead, she suggests paying attention to the dog's favorite toy.
"Take hold of something else they really love, which will vary from dog to dog. It might be grabbing a bag of their favorite dog treats and showing them what you have. Or it might be picking up their walking lead if this usually excites them. At this stage, it's not about finding something the dog will have, but something they love! Let them see you have this item and do the moving away."
Nutkins told Newsweek the aim is to make the dog drop the item for the one you are holding instead. It's important to avoid stepping towards the dog as this will trigger the chase game, according to Nutkins.
"If the dog comes towards you while holding the item, do not grab it! Instead, ignore it and pay attention to what you have, encouraging your dog to come even closer. You could fuss your dog but ignore the item as the moment we reach for it we make it valuable and the original game restarts!"
Over 17,000 TikTok users have commented on the post and it turns out this isn't the first time someone has seen a dog do this.
One comment with 38,800 likes said: "my English bulldog does the same exact thing."
"Got a little scary at the end there," said another person.
One TikTok user has compared the Bulldog to the iconic haunted doll Chucky from Child's Play, a horror film made in 1988.
The comment racked up 24,200 likes, it said: "The way your dog is literally a dog version of Chucky."
"I don't think I've ever seen something so simultaneously scary and funny," said another.
Newsweek reached out to @delaroseofficial for comment. We couldn't verify the details of the case.
Do you have funny and adorable videos or pictures of your pet you want to share? Send them to life@newsweek.com with some details about your best friend and they could appear in our Pet of the Week lineup.