Internet in Stitches at Bulldog's Way of Getting Out of Walkies: 'Stubborn'
A video of an English bulldog showing his way of getting out of a walk has left the internet in hysterics.
Five-month-old Gary isn't your average pup, he is charismatic, stubborn and "only does things when he will gain from it," according to his owner Marie Wass.
Wass spoke to Newsweek about her lazy pup's mannerisms after a video of him pretending to be asleep when it was time for "walkies" went viral on TikTok.
The popular clip, captioned: "He got himself in his cage when it was walkies time," has received over 261,000 views since it was shared on February 3.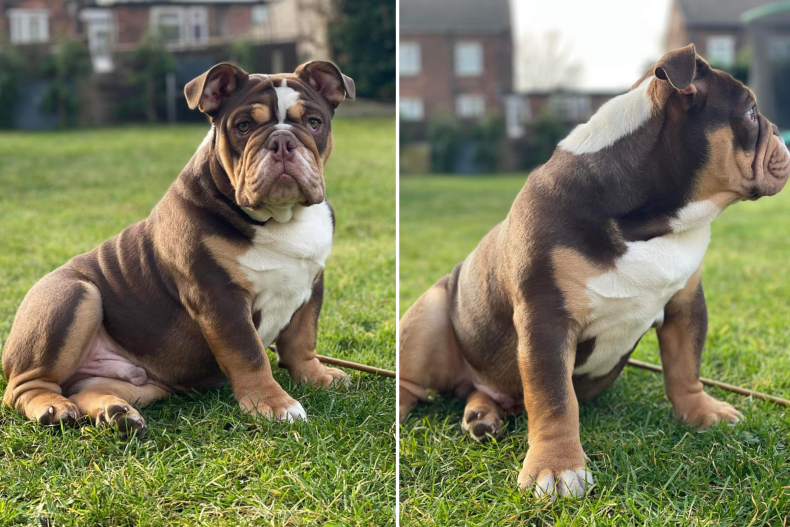 But this isn't the first time Gary's hilarious reaction has left the internet in stitches. Wass frequently shares hilarious clips to her page dedicated to Gary using the handle @garythebulldog2.
Wass, from North Lincolnshire in the U.K., told Newsweek: "Gary dislikes walking. He loves his food and sleep. He is extremely stubborn and lazy but can also have crazy periods where he will just run around biting and barking at things.
"He is very needy, and when he wants love, he does not understand personal space and will just sit on you.
"He has the best side-eye glance and enjoys judging people. He loves meeting new dogs and people and will give a little bum wiggle when someone comes to say hello.
"Gary sometimes ignores me calling his name and will just fall asleep when I am still trying to get his attention.
"He is very comical and lovable but only on his terms. His face always looks grumpy, but I don't think he can help that!"
Are English Bulldogs Naturally Lazy?
The American Kennel Club describes this type of bulldog as "easygoing," but states this shouldn't be mistaken for laziness.
Newsweek reached out to canine fitness trainer Joe Nutkins, who stated dogs with skull bones that are shortened in length, giving the face and nose a pushed-in appearance, may have more health issues.
"Brachycephalic dog breeds tend to have a shortened snout along with thickened palette which can cause a number of health issues such as breathing difficulties, difficulty regulating their own body heat (can overheat quicker) or exercise intolerance," she said.
She encourages dog owners to avoid rushing into "too much, too soon" when introducing a new exercising program.
She told Newsweek: "It would be tempting to try and give an otherwise 'lazy' dog some long walks, jogs along the beach, etc but this could be extremely detrimental to their overall health including high muscle fatigue, body soreness, pulling tendons, issues with absorbing oxygen in the body (more so with our brachycephalic dog breeds)."
Five Ways To Encourage a Lazy Dog To Exercise
Taking it one paw at a time, Nutkins encourages owners to work at a pace that suits their dog's needs. She shared the following tips with Newsweek.
Basic standing and weight shifting—to stand still is pretty tough for most dogs and their muscles are engaging more than it seems!
Add some weight shifting to the stand by providing snuffle mats. These can contain small pieces of treats or some of the dog's meals if they are very foody and while snuffling to find the food they will turn their head and shift the weight from one side of the body to the other, which in turn encourages muscles to engage and slowly strengthen and even helps a little with starting to lose weight if needed. You can pop the snuffle mat onto a box or platform so the dog doesn't need to reach right down also, especially with a bulldog as leaning down could affect breathing again.
Provide natural breaks and do not overwork the dog.
Replace a road walk with a lead with a walk around your garden, off the lead. This means a dog can go at the pace that suits them best and can stop to sniff and take a mini rest here and there.
Don't just walk around the outskirts of your backyard, encourage them to move in zig-zags, slow circles, and walk around obstacles.
What Do the Comments Say?
The popular clip has racked up 25,500 likes and over 500 comments. And it seems Gary's reaction is relatable.
One user said: "I do the same thing when my man tells me we're going to the gym."
"His expressions are top draw he cracks me up," commented another person.
"If I can't see her she can't see me..." said another person.
His owner responded to a comment and said: "He always says no unless it's sleep or food."
Do you have funny and adorable videos or pictures of your pet you want to share? Send them to life@newsweek.com with some details about your best friend and they could appear in our Pet of the Week lineup.