Dog the Bounty Hunter is still in Florida continuing his search for Brian Laundrie, and the reality television star has attempted to confront his sister, Cassie.
The reality TV personality—real name Duane Chapman—was seen knocking on the door of Cassie Laundrie Luycx's home on Wednesday in footage reported by TMZ.
Joined by his wife Francie Frane, the pair are seen repeatedly knocking on the door of the house to no avail.
After trying for several minutes, the pair leave when no one answers.
Chapman told the outlet he believes that Cassie Laundrie knows more about her brother's whereabouts.
"We're obviously looking for her brother, so thank you very much," he told a reporter on the scene.
He also said that he and his team have made many attempts to contact Laundrie family members.
When asked if he thinks Cassie Laundrie has more information on Brian Laundrie's whereabouts, Chapman confidently answered: "Absolutely."
The 68-year-old also confirmed that he is recovering from an ankle injury.
Chapman's arrival at Cassie Laundrie's home comes a day after a Wyoming coroner ruled that Brian Laundrie's partner Gabby Petito died from strangulation.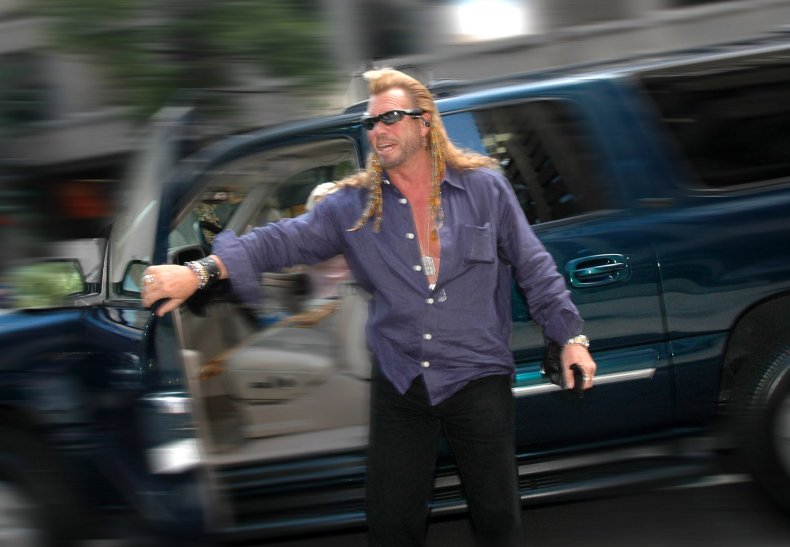 The remains were first discovered by investigators on September 19 before being confirmed to be Petito days later.
Laundrie has been missing since mid-September, after he returned from his and Petito's cross-country trip alone. He is wanted as a person of interest in the case.
Chapman has said that the Laundrie family need to work on finding a way to stop their son from evading the law further.
"The coroner's statement has established a timeline that looks worse for Brian Laundrie. His continued evasion of law enforcement makes him look guilty. His best decision now would be to turn himself in," Chapman said in a statement to Newsweek.
"I can't fathom how Brian's parents can live with themselves after how they've stonewalled the Petito family. They need to be doing more to signal Brian to stop running."
Cassie Laundrie has said she has been inundated with death threats while her brother remains missing.
WFLA-TV reports that Cassie and her husband James have been receiving messages about "killing his family and kidnapping his kids," according to the Manatee County Sheriff's Office.
Earlier this month, Cassie Laundrie was asked if she thought her brother had killed Petito, she said: "I don't know," before adding, "silence was not guilt, silence was the FBI telling us not to (speak)."