Dog the Bounty Hunter Could 'Sabotage' Brian Laundrie Search, Says Ex FBI Agent
A former FBI special agent has said that Dog the Bounty Hunter could "sabotage" the search for Brian Laundrie.
The reality television star—real name Duane Chapman—had been leading a high-profile search for the 23-year-old fugitive for the past month, but some experts worry that he may inhibit law enforcement by intervening.
"He sounds like he's going out there trying to dig around for information that could, at times, sabotage what law enforcement is doing," Matthew Young, a former FBI special agent of 20 years, told The New York Post.
Young told the outlet that Chapman's ongoing quest to get information on Laundrie's whereabouts may not be helpful to authorities' own methods of searching for a fugitive.
"Often, it's not helpful to law enforcement techniques and operations."
Chapman responded to Young's remarks in a statement to Newsweek on Monday.
"Multiple law enforcement officials have encouraged Dog in his search for Brian Laundrie," a spokesperson said.
"Dog has a long track record in helping law enforcement, including the FBI. Anyone who comments to the contrary does not have first-hand knowledge of this situation."
Laundrie remains wanted as a person of interest in the murder of his fiancee Gabby Petito.
The 22-year-old blogger was last seen alive in Grand Teton National Park in Wyoming on a cross-country road trip with Laundrie on August 25.
She was found dead in Grand Teton National Park on September 19, with her death later ruled as a homicide by strangulation.
The FBI has issued a warrant against Laundrie, charging him with fraudulently using Petito's debit card after her death.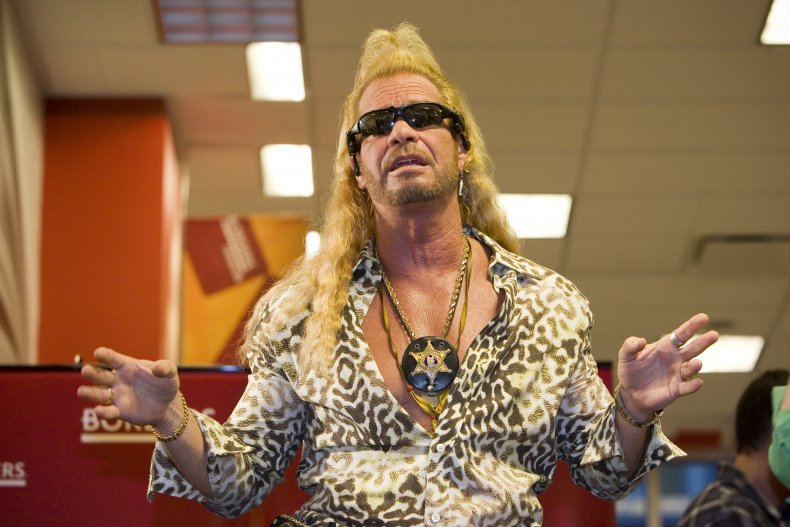 The lawyer representing the Laundrie family has also criticized Chapman for getting involved, labeling him a "dusty relic."
"Dusty relics like that Dog and John Walsh [of America's Most Wanted fame] need a tragic situation like this so they can clear the cobwebs off their names and give their publicity-hungry egos some food," Steven Bertolino told TMZ last Thursday.
Bertolino's remark came after Chapman attempted to confront Brian Laundrie's sister, Cassie, last Wednesday.
Chapman subsequently responded to Bertolino's comments to say the attorney doesn't want to fugitive to be found.
"It's ironic that Mr. Bertolino would criticize the people trying to find Brian Laundrie, unless perhaps he doesn't want him found," Chapman said in a statement to Newsweek.
The Petito family has now criticized Laundrie's parents, claiming that they have not fully cooperated with authorities in the search for their son.
"They know most of the information, I don't know why they're doing this to us. I feel like we need to just know, at this point," Petito's mother Nichole Schmidt said in an interview with Australian TV show 60 Minutes.
Her father Joe Petito added: "If they do know something and they're withholding that and they don't want to let us know, it's cruel."
This article was updated to include a response from Duane Chapman.