Dog Enjoys Custom-Made Birthday Cake: 'Treating Him Like Royalty'
A dog who had his own cake to celebrate his birthday has delighted the internet.
In a post on Reddit's popular r/MadeMeSmile forum, Drew from Michigan shared a video of his boxer dog Zeus on his fourth birthday.
To celebrate, Drew had decided to try out a doggy cake mix from the local pet supply store.
"We decided to get it instead of getting Zeus a regular old treat," Drew told Newsweek. "We usually give him presents like treats or toys—we want him to live his life full of energy and happiness."
In the video, Zeus is keen to get to his extra-special dog birthday cake as his owners try to light the candle for him.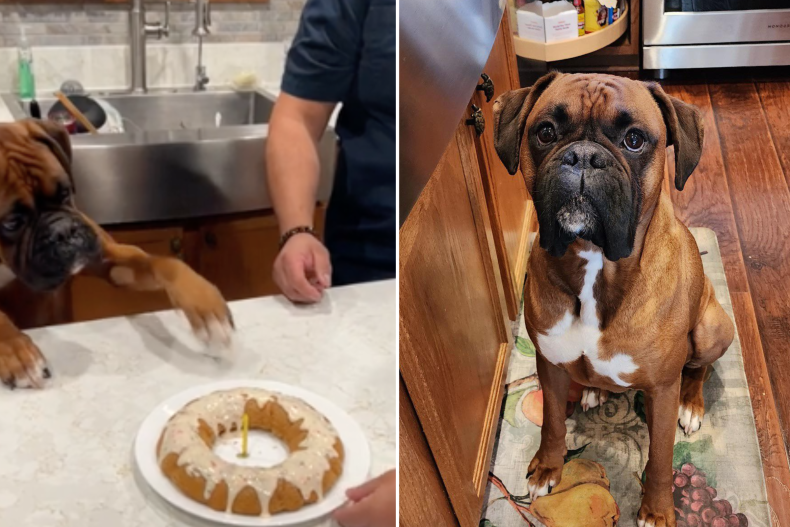 The dog-friendly cake mix kit included frosting, sprinkles and a candle to make the perfect birthday treat.
After waiting patiently, Zeus was finally allowed to eat his cake alongside a canine friend.
"I think it's so sweet that you made him a cake and he got to share it with his buddy," said one Redditor after watching the video. "And that big guy was so polite not to just fully leap onto the counter. What good boys."
Another commenter said "That was so sweet," while one viewer added: "There's a lot of love there for that doggie."
"Give that dog his cake already!" joked another commenter.
Zeus' owner revealed that they are treating him as he is likely to be their last dog. "Unfortunately he will be the last dog that we own," said Drew. "We are out of the house most of the day and it's unfair that him and his friend have to be home all day so we decided not to have more dogs after Zeus. It's the main reason we are treating him like royalty."
Can Dogs Eat Cake?
Cake is generally not good for dogs. Cakes that have chocolate or raisins are toxic to dogs, while other cake recipes contain high sugar content which is also bad for our canine friends.
But it is possible to make a dog-friendly cake as an occasional treat, much like Zeus' birthday cake. If you're looking to treat your pup, it is important to follow a recipe designed for dogs that doesn't contain any toxic ingredients and minimizes fats and sugars.
Seeing Zeus enjoy his birthday cake delighted Reddit users, and Drew said that he was pleased it could offer some happiness to others.
"I wanted to share my video because I want people to smile and laugh," he said. "People can be in a dark place sometimes so I hope I made someone smile."
Do you have funny and adorable videos or pictures of your pet you want to share? Send them to life@newsweek.com with some details about your best friend and they could appear in our Pet of the Week lineup.