'Once A Retriever, Always A Retriever': Dog Fetching Buoy Melts Hearts
Sometimes, it becomes apparent why golden retrievers were given that particular moniker. That's certainly true of Bailey (@goldenlifeofbailey on Tiktok) who featured in a recent Tiktok video that has gone viral.
The video, titled "Dad was in fact not happy at all..... #ohno #sea #swimming #HolidayModeActivated #dog #dogsoftiktok #foryou #fyp #foryoupage," shows a dog playing in the sea, tugging on a bright red buoy.
Captions on the video state: "Today, I found this red 'ball' in the sea. It was bigger than my own toy, so I wanted it, but it didn't want to come with me.."
The video shows the dog struggling with the buoy, determinedly trying to drag it out of the water to shore.
Further captions state: "My parents kept shouting 'let go' and threw my toy into the sea, but I wasn't gonna give up. I got very tired, but knew it would be worth it, so I kept swimming and pulling. Dad thought it looked so much fun, so he joined me in the water. Unfortunately, I didn't get the ball, but I could tell that dad was very proud and happy."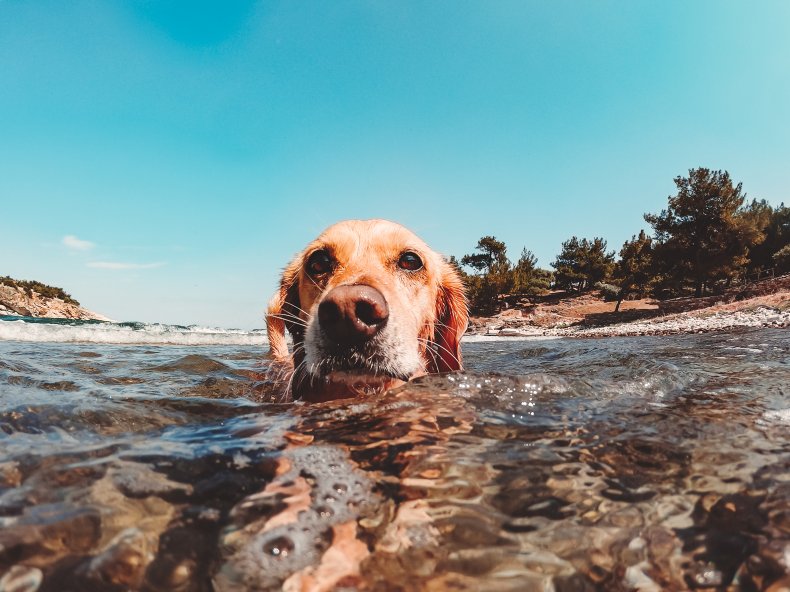 The video has delighted fellow Tiktokers, attracting over one million views, more than 100,000 likes, and over 600 comments. @beccajaydeecclest wrote, "ITS A GOOD BOUY......" while @nikolaiwww commented, "once a retreaver, allways a retreaver."
Some users appeared to relate to the dog's owners, with @gator771 writing, "Oh yes Dad looks soooo happy indeed...." with a laughing emoji. The OP (original poster) responded, "Hahaha, he was absolutely fuming."
Other Tiktokers had experienced similar things with their dogs, including @rhapsodicsky, who wrote, "my dog did this once. had the whole bay laughing."
Interestingly, Bailey may have been trying extra hard to "fetch" the buoy because "Mom" and "Dad" were watching, according to research published in 2020 in the journal Frontiers in Psychology.
The research found that, while dogs are generally willing to play fetch, they were "faster to approach the toy object and gazed significantly longer at their owners when he/she was paying attention."
They concluded that, in general, a dog's behavior is affected by their owners' visual attention.
Evidently, this is something that other dog-owning Tiktokers have experience first-hand. @catrn3 wrote, "Omg my old lab would do this at my parent's cottage! Keep him occupied for hours. My dad was not impressed Thank you for the reminder."
Likewise, @franviva98 commented, "they will go for anything...I bet you were happy lol," while @bluepearlwolf left a more humorous comment: "ah a new exercise system, mooring bouy tug swimming."
Newsweek reached out to @goldenlifeofbailey.