Dog Waiting for Her Birthday 'Pawty' Guests to Arrive Delights Internet
A video of a dog greeting her dog pals as they arrive for its birthday party has gone viral on TikTok, where it had 3.1 million likes at the time of this writing.
The clip shared from the TikTok account @heyy.its.mason was posted with a caption that read: "My birthday is the 26th but we had a pawty early [paw print emojis]."
The animals appear excited to see each other in the video, but can dogs form friendships with other dogs?
A March 2019 study, published in Scientific Reports, looked at how different partners can help dogs cope with a stressful situation. It found that "the type of relationship, rather than the partner species, predicts how dogs react to a social threat."
The study's findings suggested that "dogs can form relationships of comparable qualities with both humans and other dogs, and that these relationships vary along multiple components across different partners."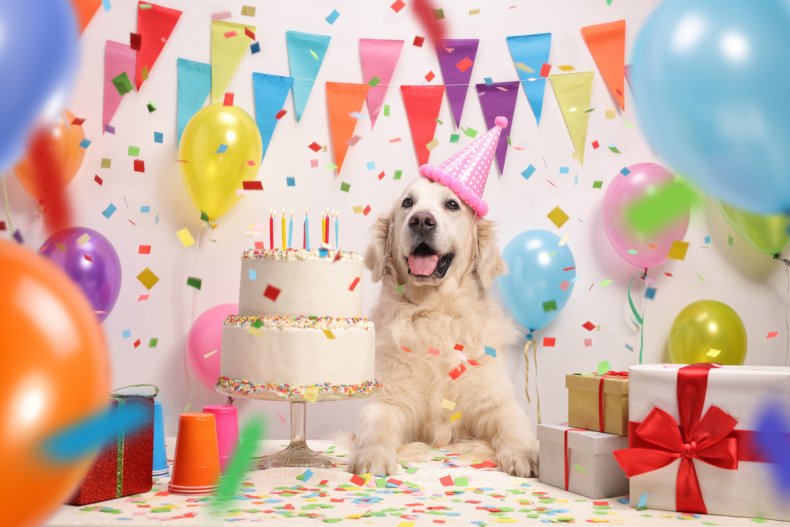 In a February 2013 article in Psychology Today, Stanley Coren, a professor emeritus in the psychology department at the University of British Columbia and the author of several books about dogs, agreed. He said that "although dogs are happiest when they are in a social situation, the species that they are interacting with is less important than the quality of the interactions."
"Dogs that have been properly socialized will congenially approach virtually anything that is alive, regardless of its species, and, unless they receive hostile signals, they will attempt to establish a good-natured relationship," Coren said.
Brittany, the dog in the TikTok video, was seen standing by a glass door and wagging her tail while watching various dogs arrive at the party with their owners. "I told my friends to arrive to my pawty around 530. Let's see what time they get here," a message overlaid on the video read.
The clip concludes with a shot of the dogs wearing cone-shaped party hats on a couch, with a party decoration on a wall that said: "It's my bday motherpuppers." Another shot shows a dog sitting in front of a cake.
Speaking to Newsweek, Zazie Todd, the author of Wag: The Science of Making Your Dog Happy, said dogs recognize other dogs they know and scent seems to play an important part in it. They use ways to communicate that they are friendly, from body language to sounds, touch, and scents.
"For example, if you look at the dogs in the video you can see a relaxed body, a lovely wide wagging tail, a cheerful bounce in the step of the dogs as they arrive, and a happy relaxed open mouth," the author said.
Puppies and young canines are especially keen to play, but young adults typically play less with other dogs, Todd said. As they get older, "they can still enjoy hanging out with other dogs, but it's often more relaxed with both dogs sharing the space happily but doing their own thing," such as sniffing, she explained.
While most are friendly with at least some other dogs, they do "vary quite a bit in how sociable they are." Some are friendly to nearly all other dogs. Others are more selective.
Some don't really like to hang out with other dogs, often because they either missed out on time to play with others when they were a puppy or have been attacked by another dog (especially if this happened when they were young).
Todd said: "Dogs like this should not be forced to interact with other dogs. If your dog is reactive to other dogs, you can hire a reward-based dog trainer to help teach them that other dogs can be friends."
Several users on TikTok were delighted by the video. In a comment that got 138,200 likes, user Karivillanueva26 wrote: "A dog has more friends than me."
In a comment that received 34,200 likes, user Steph-O wrote: "I never knew this is what I needed in my life, but this is exactly what I needed!!"
User sandyrdz81 simply said: "Omg [oh my god] that is so cute [floating hearts smiling face emoji]."
Athena Faris wrote: "This is absolutely precious [crying floods of tears and red heart emojis]," while MarkeyMark said: "This made me smile so much [smiling with teeth emojis]."
The video has not been independently verified by Newsweek, which has contacted the original poster for comment.
Do you have funny and adorable videos or pictures of your pet you want to share? Send them to life@newsweek.com with some details about your best friend and they could appear in our Pet of the Week lineup.
Update 10/4/22, 7:49 a.m. ET: This article was updated with comment from author Zazie Todd.