An adorable dog by the name of Bentley enjoyed a birthday to remember this year after his owners decided to host a surprise party in his honor.
The super cute mini doodle's reaction to the big reveal was captured in a heartwarming video shared to TikTok from the account minidoodlebentley.
At the time of writing, it has been watched 6.8 million times. It can be viewed here.
Buying a dog a gift isn't just something fun to do, it could actually be beneficial to your overall well-being. Researchers from Elmhurst University in Illinois found that buying a present for a pet can actually make someone happier than buying a gift for yourself.
They reached that conclusion after conducting two experiments, the first of which saw 149 participants asked to detail the last time they spent $5 on a gift for either themselves, a pet or someone else.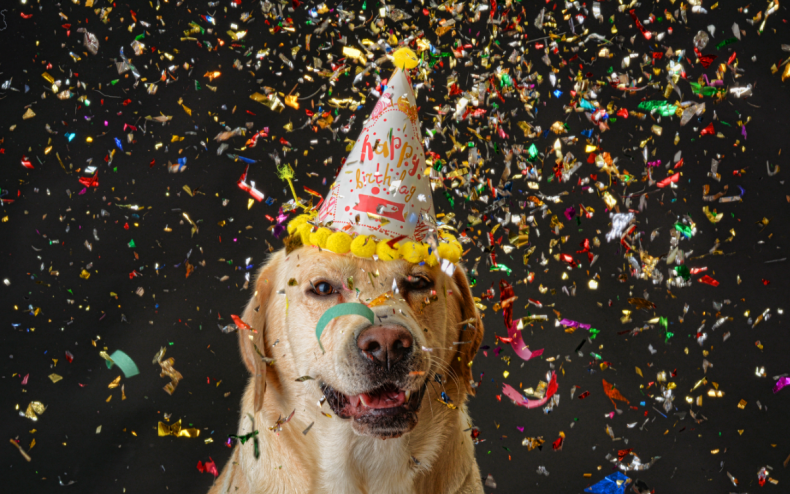 Test subjects were required to write down as much detail as they could on what the experience was like. They then had to answer two questions about their overall sense of happiness and the sense of contentment they felt about their life using a scale of 1 to 10.
Researchers found that those spending money on pets scored the highest levels of happiness. A second test saw 188 subjects given $5 and tasked with buying something for themselves, a pet or someone else by the end of the day. Each participant was randomly assigned one of the three options.
Those spending the money on something for themselves often bought food, while most of the pets were given a treat or toy. Those buying for someone else bought a gift card, snack, drink or charitable donation.
Once again, the happiness levels of those taking part were gauged using the same two-question system and, once again, those buying for pets were found to be the happiest of the three groups.
Bentley's human friends and owners certainly appeared to be having a great time on their beloved four-legged friend's birthday if the video shared online is anything to go by. It captures the exact moment Bentley is surprised in his home.
Entering his owner's apartment, the mini doodle is positively delighted to find himself surrounded by all of his favorite human companions.
They greet him with a resounding cheer as he enters the room. Bentley, for his part, doesn't know where to look. There's certainly a spring in his step as he enters, while his wagging tail offers the clearest indication that this is one very happy boy.
He makes an immediate beeline for his owner, who is filming proceedings before being directed over to a chair set up in his honor in front of a teddy bear-shaped birthday cake.
"Highly recommend throwing a surprise party for your dog," the onscreen caption reads. "He had no idea."
A reminder that sometimes it's the small gestures in life that generate the biggest joy, the heartwarming footage struck a chord with many dog lovers on social media.
Commenting on the TikTok clip, tocadiva1 said: "this is so cute." Kacithedoodlemomma wrote: "Awh the looking around at everyone!!!" Christina Marie admitted she "shed a tear" watching the video while rosieandmack said she was "definitely doing this" for her dogs.
Brushmeoff agreed "this is adorable" and Huxleythepandapuppy wished Bentley a "happy birthday." Faith Huckabay, meanwhile, loved "how the whole family came" with Laura O'Neill joking that it was "nice to know there's other crazy dog people out there."
Newsweek has contacted minidoodlebentley for comment.