Greyhound Owner Shares Genius Dog Hack To Keep Pet Cool During Heatwave
A dog owner shared her genius hack for keeping her pooch cool during a heatwave and it's proving very popular online.
British artist Annie, who lives in Manchester, northern England, shared a video of herself giving the greyhound a cuddly toy filled with an ice pack to keep the animal cool as temperatures across the city soared this week.
The clip, which has racked up three million views, showed the dog's owner filling the toy, which she purchased from British chain store B&M, with the ice before the pooch gently snuggled up with the toy on the sofa.
The Met Office, the U.K.'s weather information and advisory service, forecasts temperatures of 95F in certain parts of the U.K. from Sunday to Tuesday, with the latter expected to be Britain's hottest day on record with unprecedented 104F highs.
The U.S. has also seen searing temperatures in several regions.
Last week, the National Weather Service (NWS) issued an excessive heat warning for several states in the South and Midwest including Mississippi, Kentucky, Arkansas, Kansas, Missouri and Louisiana.
The U.K. video has racked up a massive 415,4000 likes and 1472 comments, with users insisting they're going to make a variation of the toy while sharing other suggestions for keeping dogs cool during the heat.
"I'll have to make a DIY one for him; we don't have it in Ireland. I'll do my best, great idea," wrote one user.
Another user asked: "That's amazing, where did you buy that from?! Would love to get one for my dog."
A third suggested: "Also a tip, cooling mats are great for dogs. Also really great for dogs who have problems with joints."
"Such a cutie I need this for my whippet," commented a fourth user.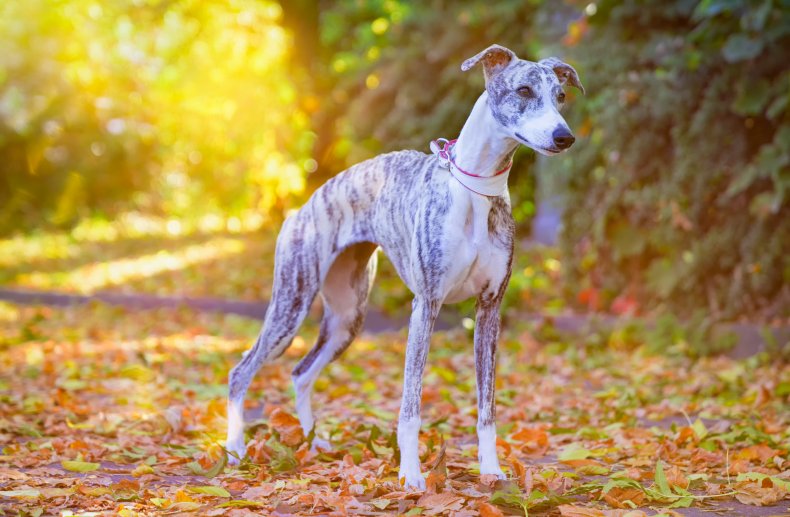 During high temperatures it's important to take precautions to guard animals against excessive heat and to quickly spot the signs if your dog develops heat stroke.
"Heatstroke has different symptoms per stage," Dr. Jerry Klein, Chief Veterinary Officer at the American Kennel Club (AKC) previously told Newsweek.
"If your dog is experiencing heatstroke in the early stages you will notice heavy panting, rapid breathing, bright gums and tongue, issues with balance, and excessive drooling."
"Light skinned and hairless dogs are also at risk for sunburn," Dr. Travis Arndt, Director of Veterinary Medicine at Animal Medical Center of Mid-America, added.
According to the AKC, dogs with shorter snouts, such as pugs, bulldogs and boxers, typically have greater difficulty breathing and can find it hard to maintain regular breathing in extreme heat.