Dog Gets Hilarious 'Face-lift' As Owner Vacuums Its Loose Skin
A viral video shows the moment a dog was left with a "face-lift" as her owner vacuums her.
Dogs are known for having an aversion to vacuum cleaners but Zilla the Malinois is proof that some actually enjoy them.
In the video shared by Lindsey Hinds on the TikTok account zillathemal, she explains that Zilla "really does enjoy getting vacuumed."
At the beginning of the clip, Zilla can be seen lying on a bed while Hinds starts to use a vacuum to pick up dust and loose hair from the pooch.
But as the vacuum goes down the back of the dog's neck the suction pulls at Zilla's loose skin causing her to appear as if she is having a "face-lift."
The video is captioned: "When you are laying back getting a massage and relaxing, but then suddenly you get a facelift you didn't expect. Sorry, Zilla."
Hinds adds: "Zilla really does enjoy getting vacuumed, but that loose skin on her neck sneaks up on me sometimes. She's free to get up at any point if she's uncomfortable."
Thankfully, the pooch does not appear to be fazed by this particular vacuum incident. Hinds added: "It doesn't seem to bother her but I always feel bad for laughing at her face."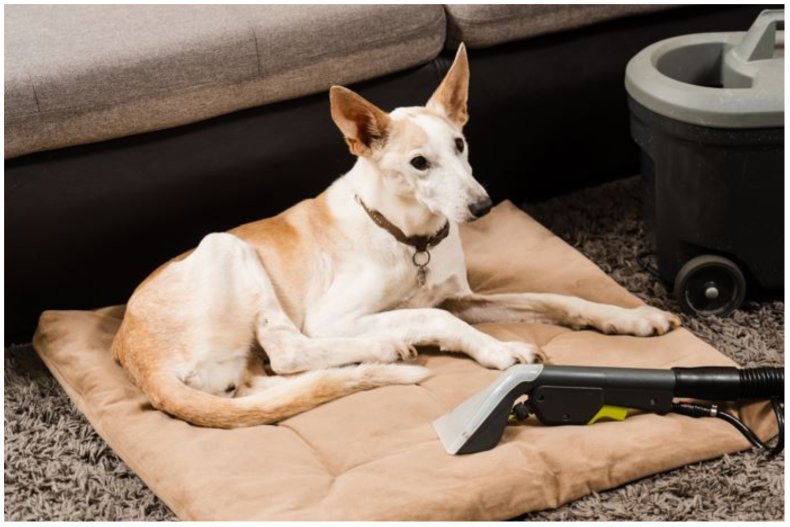 According to the American Kennel Club (AKC), there is one simple reason why dogs can be afraid of vacuums, namely, they are "scary."
Since being uploaded to TikTok on January 27, the clip has been viewed more than 3.1 million times and liked on some 274,500 occasions.
One TikTok user said: "My dog loves being vacuumed too. Whenever we do the floors, he's there dancing like 'me next.'"
Another joked: "Made her five years younger."
The AKC said there are ways that you can get a dog accustomed to the sound of a vacuum cleaner.
First, introduce the vacuum in a controlled environment at a very low volume and/or a great distance from your dog.
Then, pair the sound of the vacuum with a food reward. Do this several times until you see your dog's reaction change from unsure and concerned to happy and excited when hearing the vacuum at very low levels of intensity.
After you get that happy response, increase the volume/sound of the vacuum in very small graduated increments, and repeat.
Newsweek has contacted Lindsey Hinds for comment.
Do you have funny and adorable videos or pictures of your pet you want to share? Send them to life@newsweek.com with some details about your best friend and they could appear in our Pet of the Week lineup.