Dog Gives 'Hugs, High Fives and Cuddles' During Children's Hospital Visit
An adorable Goldendoodle by the name of Brodie paid a special visit to the brave young patients at a children's hospital in Las Vegas earlier this month.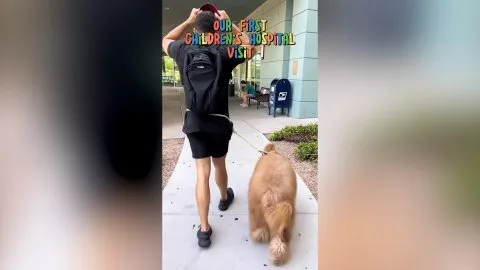 Heartwarming footage shared to TikTok captured some of the highlights from the day Brodie the dog and his human companion Cliff dropped into the Children's Medical Center at Summerlin Hospital to raise a few smiles.
The Children's Medical Center provides care to infants, children, adolescents and teenagers. It features 46 private patient suites and a 12-room pediatric intensive care unit which, according to its website, is the only one of its kind along Las Vegas's western beltway.
It's a huge facility offering a wide variety of treatments to a significant number of children and young people, some of whom are battling serious health conditions.
Cliff told Newsweek he and Brodie have been desperate to pay the young patients there a visit for some time. "I've been trying to bring Brodie to a children's hospital for about a year and a half now," Cliff said.
"Mostly due to COVID restrictions and other red tape, we weren't allowed any in-person visits. After reaching out numerous times to followers for leads, a friend, Kassi Hanson, helped streamline the entire process and finally get it done."
Footage of the resulting trip was subsequently shared to TikTok, where Brodie boasts some 5 million followers. At the time of writing, the video from their visit has been viewed 1.8 million times.
In the clip, Brodie can be seen snuggling up to some of the young kids being treated, posing for pictures with the hospital's dedicated staff and just generally nosing around the place.
But it really only tells half the story of what went on during the trip. "While at the hospital, we let the kids give Brodie hugs, high fives and cuddles," Cliff said. "We even put Brodie in his backpack and goggles and did a few laps around the facility."
Cliff said he had also worked on a neat trick with Brodie to get the children involved in the fun. "We explained to the kids that Brodie has a rare condition in which he grows bigger the more he is loved," he said. "When they would pet him, we would stand him up and show them how much they just made him grow!"
Writing on social media, Cliff described the visit as "the most fulfilling thing I've ever been part of" and paid tribute to both the hospital and families of the kids being treated for "letting us come by and spread smiles."
Cliff told Newsweek a little more about his unique relationship with his Goldendoodle. "Brodie is my best friend, he goes everywhere with me and tags along on all my adventures," he said.
"I helped deliver Brodie, so he's known me for his entire 3.5 years on this planet. We love to travel together and do activities that allow the wind to blow through Brodie's fluff. He loves going in the backpack on my back for bike rides."
Cliff said he hoped the clip would raise awareness of the incredible work being done at the hospital and the positive role pets can play in treatment and recovery.
"I hope others can realize the healing power of dogs. Brodie has helped me immensely with my health, I want to share that gift with the ones that need it most," he said.
A previous study from the University of Kansas concluded that smiling can help aid recovery from stress and ease heart rates. Cliff said he now hopes to continue his hospital visits and eventually create a non-profit organization to matchmake therapy dog teams with facilities in need of this kind of support.
He also wants to establish a fund to help financially support families facing significant expenses as a result of getting care for a sick child.
{{#isDisplay}} {{/isDisplay}}