Grandparents Go Viral for Being 'Obsessed' With Cockapoo
A dog appearing extremely excited in the company of the owner's parents has gone viral on TikTok, with 1.7 million views.
The clip, which has not been independently verified by Newsweek, was shared from the TikTok account Vilja The Cockapoo (@viljacockapoo).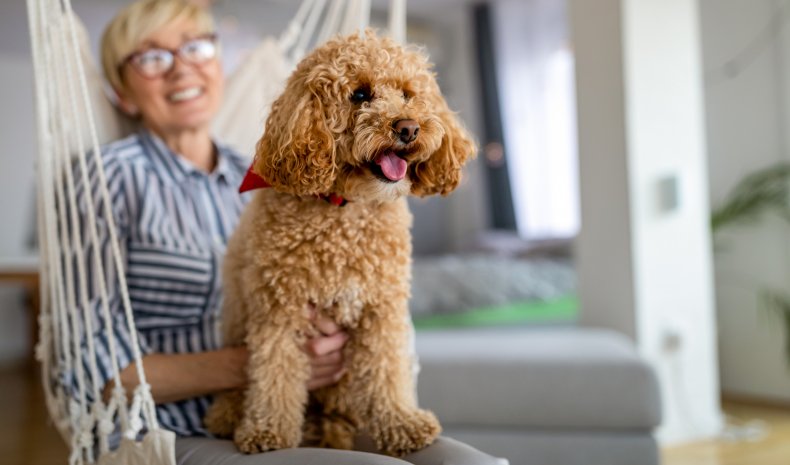 With a caption that reads: "My dog is obsessed with her grandparents," the TikTok video features a cockapoo, a cross between a cocker spaniel and a poodle, basking in the affections of the owner's parents in various scenarios.
From resting peacefully in the grandmother's caresses to jumping up and down while greeting them from inside a car and at the airport, the cockapoo couldn't seem to get enough love from its grandparents.
According to an August 2019 study in the International Journal of Human Wellbeing, dogs provide older people with many physical, emotional and social benefits.
The study stated: "Canine companionship is important for people of all ages; for senior people, dogs take on a particular significance.
"Seniors, who have deep attachment to their dogs, think of their dogs as cherished family members rather than as animals with benefits," the study said.
A June 2020 study published in the Frontiers in Veterinary Science journal said pet ownership is lower at older ages, "which mirrors the general pattern of poorer cognitive and physical function, and psychological status at older ages."
The study said pet ownership and regular contact with pets are associated with better cognitive status, compared with those who don't have pets or have regular contact with pets "independent of age."
TikTokers were delighted by the cockapoo and her obsession with the grandparents in the latest viral video.
In a comment that received 8,764 likes, user Empress Starlight Ren wrote: "She knows she's the baby."
User inkycheetah commented: "I'm sorry but her grandma is her soulmate .. she just tolerates you."
TikToker nessling12pb wrote: "Looks like her grandparents might be a teeny bit obsessed with her too," while Marissa Brewer commented: "Her excitement with Grandpa at the window, pure unbridled joy."
Newsweek has contacted the original poster for comment.
Do you have funny and adorable videos or pictures of your pet you want to share? Send them to life@newsweek.com with some details about your best friend and they could appear in our Pet of the Week lineup.