Pit Bull Prank Calling Pet Store Has Employee in Hysterics: 'I Am Crying'
A hilarious video of a dog prank calling a pet store has gone viral on TikTok with over 15.5 million views.
In the video posted by @heymynamesluna, a brown and white American Pit Bull Terrier can be seen sitting in front of a phone as it rings Rens Pet Depot.
A store assistant can be heard picking up the phone and saying, "Thank you for calling Ren Pets, how may I help you."
Luna then proceeds to 'talk' in to the phone and soon after the shop assistant can be heard laughing as she says "pardon me? No I'm sorry we don't sell those."
One user commented, "the way she immediately started wheeze laughing ... she passed the vibe check for SURE." Ren's Pets commented, "One of our best customer calls ever! You can 'speak' to our managers any time, Luna!"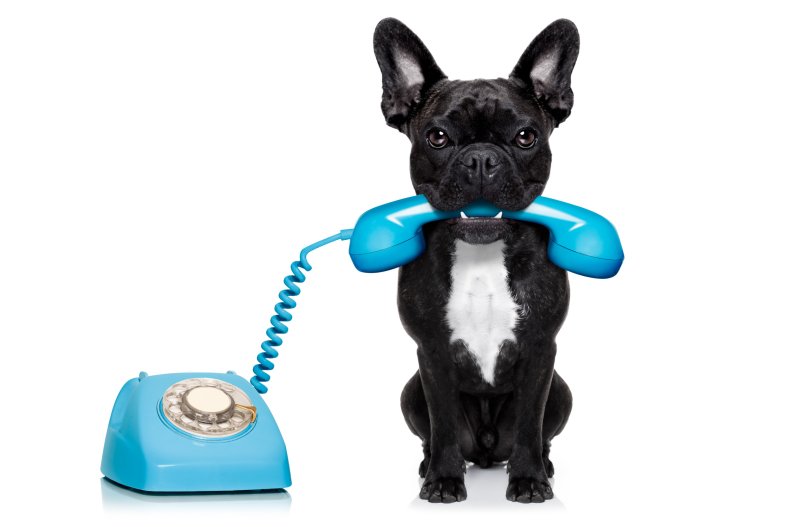 In other videos, Luna can be seen enjoying dressing up in fancy dress, cuddling with cats and relaxing on the sofa with her owner.
Pit bulls often get a bad reputation, sometimes based on true events, and sometimes due to misinformation.
Although no state in the U.S. outlaws the breed entirely, various cities have bans and restrictions in place. In January 2021 however, the city of Denver completely lifted its ban on Pit Bulls after more than 30 years.
In an article written by R. Scott Nolen, senior news reporter at the Journal of the American Veterinary Medical Association (JAVMA), the situation across some U.S. states was outlined.
Where Are Pit Bull's Banned in the U.S?
Some states prohibit local governments from enforcing breed specific legislation as of 2021, including Utah, Maine and Arizona. However, some major U.S cities have bans and restrictions in place.
Washington, DC
The District of Columbia doesn't have restrictions on pit bulls, but the neighboring Prince George's County in Maryland bans the breeds.
Miami, FL
Since 1990 it has been illegal to buy, keep or bring pit bulls into Miami-Dade County. Hefty fines and possible euthanasia of the dog can occur if anyone violates these laws.
New York City, NY
While the city doesn't have a restrictions on Pit Bulls, the New York City Housing Authority bans the breeds as well as Dobermans and Rottweilers from all its properties.
San Francisco, CA
In San Francisco it's illegal to keep an unspayed or unneutered Pit Bull and you need a permit from animal control to breed them.
North Chicago, IL
North Chicago require pet parents to obtain a Pit Bull Kennel License from the city for $500 and can only keep two at any one time.
Newsweek has reached out to @heymynamesluna for comment.
Do you have funny and adorable videos or pictures of your pet you want to share? Send them to life@newsweek.com with some details about your best friend and they could appear in our Pet of the Week lineup.