Hearts Melt as Golden Retriever Spots His 'Hiding' Owner at Dog Show
A video of a golden retriever appearing to recognize its owner in a crowd has gone viral on TikTok, receiving 3.2 million views so far.
A message overlaid on the video, which was shared from the TikTok account @naomiblk1, read: "When you are supposed to be hiding from your dog at the dog show but get caught."
The clip showed what appeared to be a dog show. A golden retriever was seen with its mouth open and tongue out while standing next to a man in a suit who held the dog on a leash.
The golden retriever started turning its head toward the camera before it suddenly stared directly at it and abruptly closed its mouth.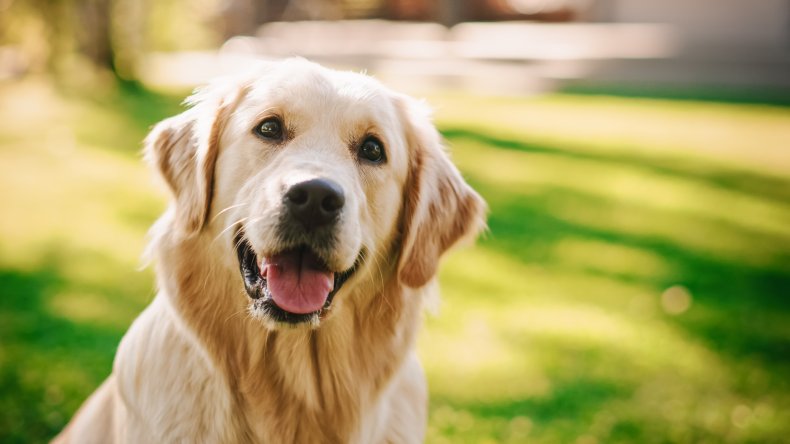 A caption shared with the post simply read: "#pivot #fail #dogshow #akc #akcdogshow #goldenretriever #fyp."
It's not surprising that the dog in the video seems to spot its human parent. Our canine friends often share a strong bond with their owners.
"This unique relationship between adult dogs and their human owners bears a remarkable resemblance to an infant attachment bond: dogs are dependent on human care and their behavior seems specifically geared to engage their owners' care-giving system," said a May 2013 study in the online journal PLOS One.
While it's not known how the pup in the video saw its owner, the sense of smell is "a principle sensory modality for dogs," said a January 2020 study in the International Journal of Comparative Psychology.
Using natural body odor captured on a T-shirt, the study found that "dogs habituated to a familiar odor and dishabituated to an unfamiliar odor."
In a September 2020 article for Psychology Today, Daniel Marston, a licensed psychologist specializing in cognitive behavioral therapy, said: "What was particularly interesting about this study [from January 2020] was that it addressed how dogs reacted and used the smell of a familiar person even if that person was not actually there."
Dogs also have heightened visual and hearing abilities. so if "the person was actually there it would not be certain whether the dog actually smelled the person most or might have heard some small noise the person made," Marston said.
The video has delighted users on TikTok.
Myri Marvelita wrote: "[crying, laughing emojis] oh there u are [smiley face with floating hearts emojis]."
In a comment that got over 32,000 likes, user Rich said the dog must have been thinking: "Hold up" [crying, laughing emojis]."
User Jenny Hust said the golden retriever must have thought: "Wait a damn minute" [crying, laughing emojis]," in a comment that got 20,000 likes.
Liarna [cat silhouette emoji] wrote: "Wait a minute I know you."
Newsweek has contacted the original poster for comment. This video has not been independently verified.
Do you have funny and adorable videos or pictures of your pet you want to share? Send them to life@newsweek.com with some details about your best friend and they could appear in our Pet of the Week lineup.