Woman Gets Her Dog a 'Fur Tattoo' in Las Vegas Sparking Calls of Animals Abuse
A woman who got her dog a "fur tattoo" in Las Vegas has faced calls of animal abuse after sharing the procedure online.
The owner merely shaved an innocent design into her pet's coat, but she's come under fire over the grooming, with people claiming it amounts to animal abuse.
She vehemently refuted the accusations, claiming her dog Gus, who's 6, is "loved and spoiled," and came to no harm over the haircut.
The dog owner, who asked not to be named after receiving online abuse, shared a clip to her TikTok account, where she documents the adventures of her French bulldogs.
Gus, from San Francisco, and his owner were on vacation in Sin City when she explained a barber asked to give the dog a souvenir.
She told Newsweek: "This is most definitely not animal abuse. You can clearly see in the video how calm Gus is and is not frightened at all. Gus is one of the most spoiled and loved dogs on the internet. He is fed the highest quality food, travels with me everywhere, explores the city of San Francisco, and has regular play dates with all of his friends.
"This 'tattoo" was simply a fur shaving and no harm was done to Gus. There was no cutting or ink imparted on Gus. This was done in the grooming section of the pet convention where there were hundreds of groomers that do this for a living (maybe not in a fun design, but shaving dog's fur). Gus doesn't have a double coat and so it should have grown back sooner, but for some reason it didn't.... and I'm glad for that!"
She told Newsweek they were attending a pet convention, which she said was the largest in the world, and was told the design would only last a few weeks and was done using a pet grooming tool.
The owner, who also has pet pooch Marty, captioned the recent clip: "My dog went to Vegas. A famous barber asked to give him a 'tattoo'. My dog chose a mom tattoo. It lasted two years. What do you think?"
It shows a classic human inking design—the word mom in a heart—being shaved into the dog's backside. The video, shared earlier this month, amassed more than 15 million views.
She added: "Gus and I were attending a pet convention in Las Vegas in 2019 when we were stopped near the grooming section by a famous barber and he asked if he could shave a design into Gus's fur. At first I told him 'no, thank you' but he insisted that it would only last 2-3 weeks. I thought, 'sure, why not?! that's kind of fun!.'
"So I came up with a design that I thought would be funny and cute—a traditional "Mom" tattoo in a heart. Little did I know that it would last for over 2 years (you can still see it!) I never expected it to last this long. The barber needed to do it for part of his time for being at the convention so he did it for free."
The owner captioned the clip: "The story behind my dog's tattoo." And seemingly confirming it took place a few years ago, an Instagram post from August 21 2019 shows Gus being shaved.
The post was captioned: "What happens in Vegas after too many pawgaritas. Thanks to the famous barber @robtheoriginal for this awesome fur tattoo—don't worry guys, my fur will grow back!"
Recent posts on social media show the design was visible for a few years, with the owner admitting she had "no clue" as to why it lasted so long.
"We get a lot of looks when we are out in the city! People really love it! They always ask how he got it and all I have to say is 'well, we were in Vegas...' and then everyone laughs and talks about how much they love it," she added.
Rob The Original's Instagram page shows him shaving patterns into a horse, as well as creating skilled designs on scalps. But despite the longevity and precision of Gus' hairdo, she came under fire for getting the intricate shaving on her pet.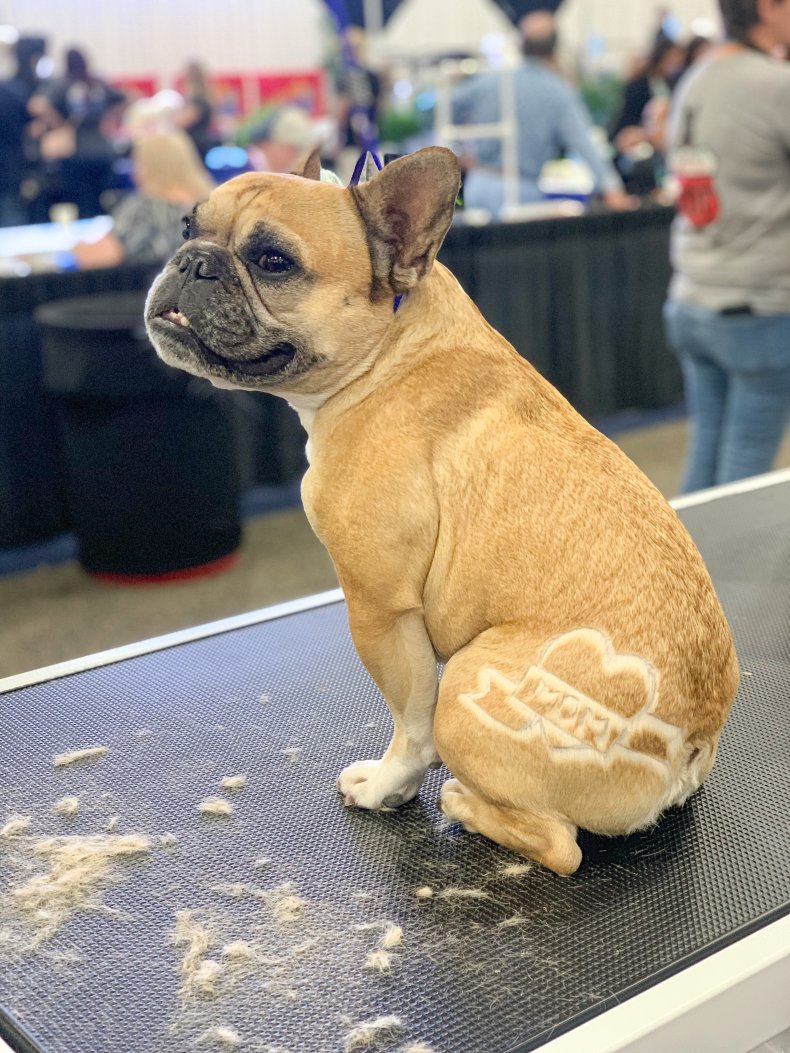 Numerous people commented on the clip, claiming it amounted to animal abuse. Fur Wolf wrote: "I think that's just unnecessary, even if it doesn't hurt the dog. There is no point in doing it either."
Milu said: "I think it's ridiculous [you] making this animal stressed out, sometimes I think certain people shouldn't have animals lol."
"This is harming the dog. #endanimalabuse," Dani thought.
Dommag1 stated: "I think you need to start treating your dog as a living being and not a fashion accessory."
Sweaty Wraith simply thought: "I can't believe some people do this to their animals. Abuse."
Raf Raf Bread commented: "Poor thing." While Offseth added: "I think it's abuse tbh."
Although some people defended the owner, and claimed it was no different from a regular groom. Brookelynn pointed out: "Ya'll so sensitive this is not abuse. If it was ink and a tattoo gun it's a different story. This is literally how people groom dogs."
Tuckerbudzyn asked: "Have none of you taken your dog to a groomer? Clippers are used for long hair dogs between their toes. Make a shape on their butt and people cry lol."
While Macy added: "These are the same people [who] think shearing a sheep or clipping a horse is abuse."
Although Vanessa clarified: "Everyone is writing abuse but not explaining why, and everyone is coming to their own conclusions. So I'll explain. It's not a good idea to shave short hair breeds like this Frenchie. I have pugs and my vet said shaving their fur affects their ability to regulate their temperature and you can die if you shave them.
"In saying that, I'm pretty sure this dog was perfectly fine. It's a small area, one of my dogs just had surgery and they shaved an area this size. They're fine!"
While social media posts in the two years since getting the hair cut show Gus survived without suffering any apparent ill-effects, Vanessa's claim about shaving short-hair dogs is backed up by numerous experts online.
Dog walking website Rover went into further detail, and seemingly explained why the design was visible for so long.
They said: "From corgis to Shiba Inus, there are some breeds of dogs that simply don't need haircuts as others do. Not only because their hair doesn't grow past a certain length, but because cutting or shaving their hair is unhealthy for the dog.
"French bulldogs shouldn't have their hair removed mostly because they have so little! Their hair is very fine and keeps their skin protected. It also regulates their body temperature.
"The only time you should shave or trim a French bulldog is at your vet's recommendation, usually due to a health issue. As mentioned, this breed is prone to allergies. If they scratch enough to wound themselves, it may be in their best interest to shave parts or all of their hair to apply topical medication or to regrow hair from scratch."
The owner has previously shared clips of the dog grooming to Facebook, sharing a tongue-in-cheek video of Gus "drinking" and "playing slots" before getting the "fur tattoo."
The on-screen captions explained the free-hand design took 20 minutes, adding: "I was not pupset or stressed. I didn't even flinch. I was such a good boi. This did not hurt at all!
"He was very talented. I was not sedated. I've never done this before. The slip collar on my neck was very loose and safe. There is no ink involved. Am very calm. He did not cut my skin. It is not a scar."
In the comments she added, in capital letters: "This did not hurt and was only a grooming."
Newsweek reached out to Rob for comment.
Update 8/25/21, 3:15 a.m. ET: This article was updated with comment, photos and video from the owner.
Update 8/27/21, 4:45 a.m. ET: This article was updated to remove the full name of the owner at their request after receiving online abuse.