Dog's Escape Attempt From Yard Leaves Internet in Hysterics: 'Testing Me'
A video of a dog's daring escape attempt by squeezing through a fence with large gaps in it has left the internet in hysterics.
Dogs have a wonderful curiosity, even if it is something that their owners sometimes wish they did not possess.
In a viral video shared on TikTok, user mymissymya explained that her pooch had been left outside by herself since a new fence was put in place.
The video started with the dog owner opening the blinds in one of their rooms that looked out to the fence and the backyard.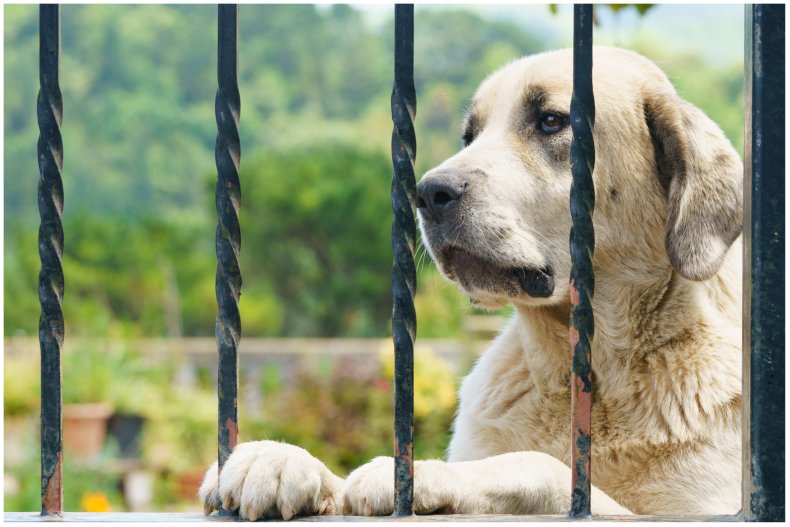 Within seconds, the dog, an Australian shepherd, could be seen trying to squeeze through the metal bars of the fence before a sharp bang on the window stopped the canine from going any further. Startled, the dog went back into the yard and was soon out of sight.
The caption read: "First time leaving my dog by herself after getting our fence put in…already testing me."
According to the American Kennel Club, a dog might decide to leave the yard because they are lonely, or territorial, or after they have found either a "treasure" or a new friend to play with.
The AKC added: "And, of course, there are the prey-driven hunters. A mere fence won't keep them from chasing a squirrel or rabbit that just ran through the yard. They may just be a puppy or an adolescent who requires more outlets for his incredible energy."
Since being shared on Sunday, February 12, the post has been seen more than 721,600 times.
Many of those who commented on the post shared their own experiences of their dogs trying to escape the home.
TikTok user Kristyn asked: "Why'd you get a fence with so much space in between the bars?"
User Mia the papillon pup added: "We put a fence around our backyard with one part being like a metal cross fence. Puppy jumped right through the holes. Had to put chicken wire [in] too."
Shauna commented: "We have to put these donut things around my dogs' necks so they don't escape when they go outside."
Leo posted: "My dog never tries to escape. Unless the neighbor's dog is in heat. We had to put chicken wire at the bottom where he squeezed through."
According to the Humane Society of the U.S., there are a number of things dog owners can do to keep their dogs from escaping, which include:
Keeping your dog inside when you're unable to supervise them.
Take the dog to your walk or a "doggie daycare" if you will be away for an extended period of time.
Take your dog to an obedience class.
Newsweek has contacted mymissymya for comment.
Do you have funny and adorable videos or pictures of your pet you want to share? Send them to life@newsweek.com with some details about your best friend and they could appear in our Pet of the Week lineup.