Owner in Shock After Installing CCTV to Discover How Dachshund Is Escaping
Move over Houdini - this is a job for Houndini, as a dachshund tries to escape using a bigger dog as a stepladder.
The wiener dog has gone viral on TikTok in a video that has been viewed more than 45,000 times since being posted on Wednesday.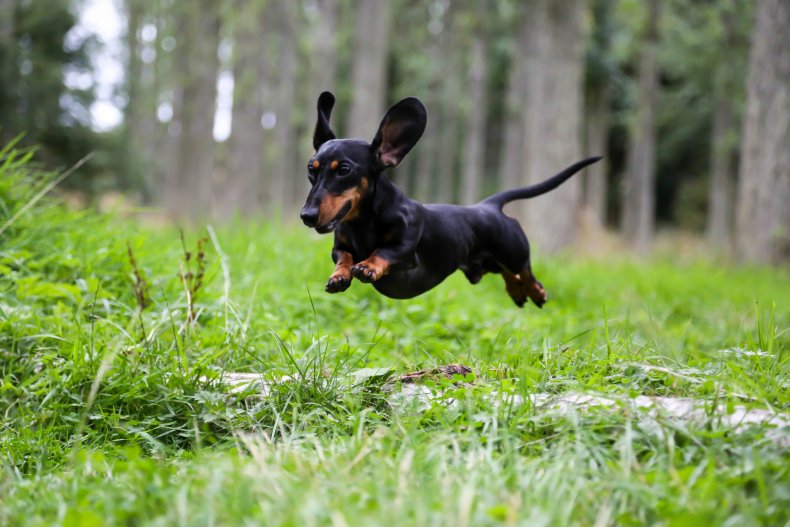 The video posted by @midlandsdaxies has been liked more than 4,200 times, and other TikTokers have been left laughing at the tiny dog using his "big brother" as a way out of the kitchen. You can watch the video here.
The caption says: "When you've had to hire the gate because you couldn't work out how your mini Dachshund was getting over it…its OK use my big brother."
Dogs attempt to escape for many reasons, ranging from loneliness, boredom, territorial roaming, mate-seeking, an underlying curiosity, anxiety, or a combination of these.
It is clear this dog isn't lonely as there's a handful of other dachshunds and the bigger dog in the room too.
The UK-based dog-walking, pet-sitting and canine day-care service We Love Pets has provided tips for dog owners who may not always be indoors to keep their furry companions entertained.
Easy DIY treat-dispenser toys - this may include treats frozen in an ice cube
Television and music as a distraction - TV for dogs really is a thing, and you can find shows on YouTube.
Interacting with your dog through a camera device - there are even devices available that allow your dog to see you, such as the Petcube.
Food-dispensing toys - this will be entertaining for your pup and promote movement.
Starting the day with a high level of activity - there's less chance your dog will get bored if he or she is tired from a long walk or run.
Ensuring your dog has access to a window - there's nothing more boring than looking at the same walls all day.
In the comments, the dog owner says the escape was a success as she has told another user, "she was out again when I got home at lunch."
TikTokers can't help but praise the dachshund and have called her a "genius."
Some users have spotted that it can't be the first time this has happened, as the bigger dog seems to "know the drill," because he or she sits down by the baby gate, ready to be jumped on.
Another TikToker k9coachuk wrote: "What a joy to watch. That big dog is so gentle and calm," while rawfedASMRT commented: "This might be the best thing I've seen all day."
Newsweek has reached out to @midlandsdaxies for comment. It was not possible to verify this story.