DOJ Grants Expanded Powers Allowing DEA to Monitor George Floyd Protesters
The U.S. Department of Justice (DOJ) has given Drug Enforcement Administration (DEA) temporary power to "conduct covert surveillance" and intelligence gathering to enforce any federal crimes committed by people protesting the death of George Floyd, the black man killed in police custody on May 25.
The two-page DOJ memorandum first reported on by Buzzfeed News gives the DEA 14 days to assist law enforcement officers during the ongoing police brutality protests. The sweeping powers were authorized by U.S. Attorney General William Barr.
Usually, DEA officers are legally constrained to keep their enforcement activities to situations involving federal drug crimes.
However, according to the memo, DEA Special Agents and Task Force Officers are now allowed to conduct "covert surveillance" and "protect against threats to public safety;" share intelligence with federal state, local and tribal legal authorities; intervene as federal law enforcement officers to protect both participants and spectators in the protests; and engage in investigative and enforcement activities including but not limited to conducting interviews, conducting searches and making arrests for violations of federal law.
"Drug enforcement agents should not be conducting covert surveillance of protests and First Amendment protected speech," Hugh Handeyside, a senior attorney for the ACLU told the publication.
"That kind of monitoring and information sharing may well constitute unwarranted investigation of people exercising their constitutional rights to seek justice," Handeyside continued. "The executive branch continues to run headlong in the wrong direction."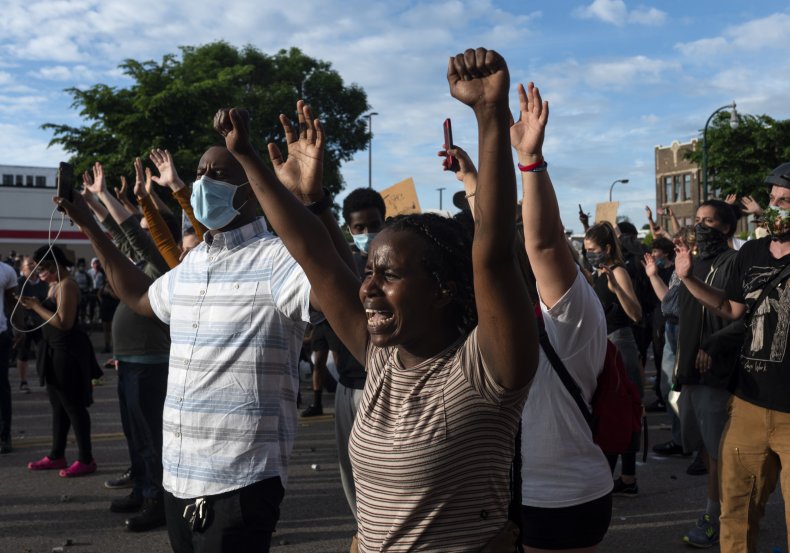 On Monday evening, President Donald Trump laid out a strategy to take military action against looters and rioters involved in the ongoing nationwide protests happening in Floyd's name.
Trump called rioters who are looting and destroying property during the protests against police brutality and judicial racism "domestic terrorists" and said that he told state governors earlier in the day to deploy the National Guard in large enough numbers to "dominate the streets." He also promised to deploy military forces in each state if governors don't comply.
Furthermore, Trump promised severe criminal penalties for protests organizers, any identified members of Antifa—a loosely defined left-wing movement that takes its name from a shortening of "anti-fascist"—and other "instigators."
"My administration is fully committed that for George and his family justice will be served. He will not have died in vain," Trump said on Monday. "But we cannot allow the righteous cries and peaceful protesters to be drowned out by an angry mob. The biggest victims of the rioting are peace-loving citizens in our poorest communities and as their president, I will fight to keep them safe."
As of Monday, protests have occurred in over 30 U.S. cities and at least 25 have imposed curfews and/or activated their National Guard forces.
Trump's comments on Monday marked the first time he had publicly made in-person comments about the protests. Early last Friday, Trump referred to protesters as "thugs" and made a statement seeming to endorse shooting looters associated with the protests.
However, by Friday evening, Trump said, "We have peaceful protesters and support the rights for peaceful protesters—we can't allow a situation like happened in Minneapolis to descend further into lawlessness, anarchy and chaos."
Newsweek reached out to the DOJ for further information. This story will be updated with any response.