Despite claims by Republican congressmen that the January 6 Capitol rioters didn't carry firearms, an indictment from the Department of Justice (DOJ) has alleged that one rioter did carry a "semi-automatic handgun" in the building during the riots.
The DOJ indictment accuses defendant Christopher Alberts of carrying a Taurus G2C semi-automatic handgun on Capitol grounds on January 6. The indictment also says he had a "large capacity ammunition feeding device."
The indictment's charges accuse Alberts of engaging in physical violence, entering and causing "disorderly and disruptive conduct" in a restricted building with a deadly weapon as well as possessing the weapon unlawfully. Alberts also stands accused of committing civil disorder and assaulting and resisting a police officer.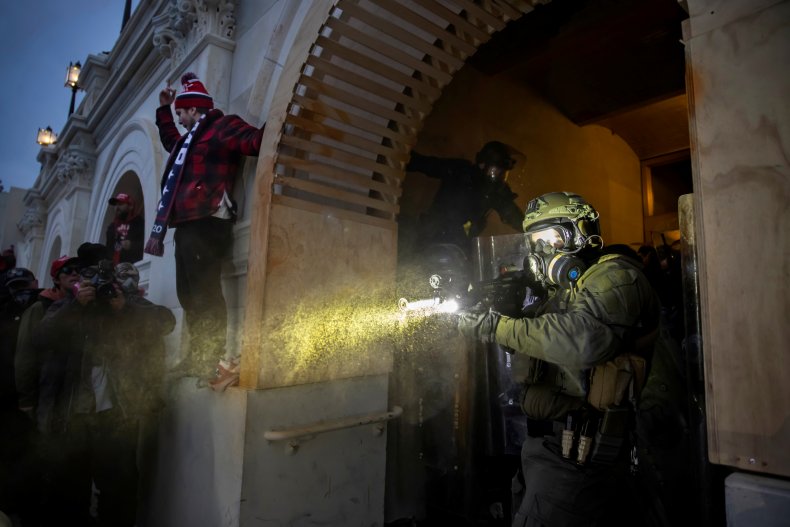 Despite the arrest and others like it, at least two Republicans have suggested that firearms weren't a part of the January 6 Capitol riots.
Wisconsin Republican Senator Ron Johnson has said the event "didn't seem like an armed insurrection."
"The fact of the matter is, this didn't seem like an armed insurrection, to me," Johnson said in a mid-February interview with WISN. "When you hear of armed, don't you think of firearms?"
"Here's the question I would've liked to ask [at former President Donald Trump's impeachment trial]," Johnson continued. "How many firearms were confiscated? I'm only aware of one. If that was a planned armed insurrection, you really have a bunch of idiots."
Johnson has pushed the disproven conspiracy theory that anti-fascist "Antifa" protestors were involved in the insurrection. He has also said he would've been more afraid for his safety if the rioters had been members of the racial justice protest group Black Lives Matter.
Johnson isn't alone in his assumption that the insurrection wasn't armed. Republican Texas Representative Louie Gohmert has also made similar comments.
"There's no evidence ... that this was an armed insurrection. Armed meaning with firearms," Gohmert said in a House floor speech on May 14. "There were no firearms. Not one person has been charged with bringing a firearm to the Capitol ... no one brought a gun into this building."
During Gohmert's speech, he accused the FBI of "unfairly" targeting supporters of Republican former President Donald Trump. He also accused the DOJ under Democratic President Joe Biden of "criminalizing ... only political protests by Republicans or conservatives."
At least 15 people have been charged with carrying a deadly or dangerous weapon during the Capitol riots, according to NPR's database of charges.
The insurrection occurred when Trump supporters invaded the Capitol seeking to overturn the results of the 2020 election. Five people died during the insurrection and roughly 140 police officers were injured. The police injuries include a broken spine, a lost eye, lost fingers, brain damage and multiple cases of PTSD. Two Capitol Police officers have died by suicide since the insurrection.
While ransacking the Capitol, the rioters shattered windows while trying to access congressional chambers, smeared feces in the hallway and stole computer equipment, potentially constituting a national security breach.
Newsweek contacted Johnson and Gohmert's office for comment.