Trump Administration Argues It Needs More Time to Reunite Separated Families, Saying It Can't Find Some Deported Parents
The U.S. Department of Justice asked a federal judge on Friday to extend the court-ordered deadline to reunite the nearly 3,000 separated migrant families that crossed the United States–Mexico border illegally, in part because it cannot find parents whom the government has already deported.
DOJ lawyers requested the judge either extend the deadline to reunite children whose parents have already been deported or to exclude them altogether, meaning the government would not be required to reunite those families, according to NBC News.
Last month, a federal judge gave the government until July 10 to reunite children under 5 years old and until July 26 for those 5 years and older.
"The government does not wish to unnecessarily delay reunification," DOJ lawyers said Friday in a response to the court. "At the same time, however, the government has a strong interest in ensuring that any release of a child from government custody occurs in a manner that ensures the safety of the child."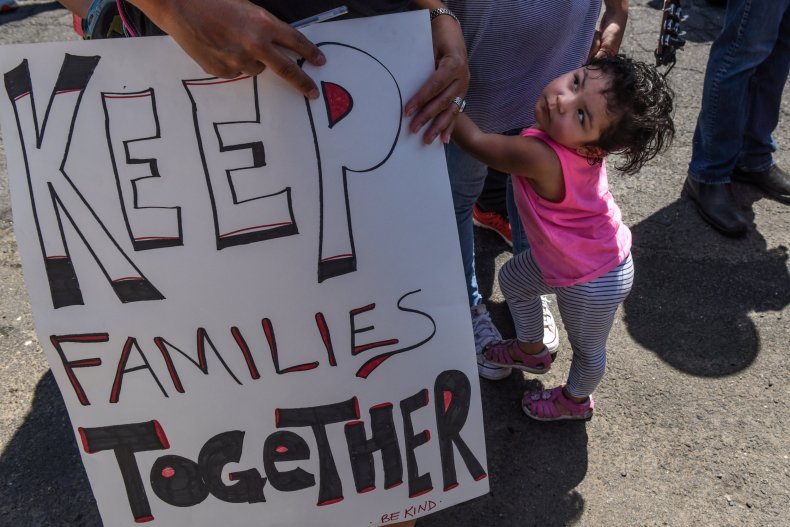 The Department of Health and Human Services (HHS) said on Thursday that it was using DNA testing kits to reunite migrant children with their parents more quickly and to prevent someone from taking a child that is not theirs.
But DOJ lawyers argued Friday that inconclusive DNA tests can prolong reuniting families and asked the judge to shorten the vetting process.
"If the court concludes that HHS must truncate [the vetting] process to meet court-ordered deadlines, then the court should so order in a manner that provides HHS full clarity," government lawyers argued, according to NBC.
HHS earlier this week blamed a delay in reuniting families on members of Congress who have recently visited child detention centers, claiming the time spent fulfilling the requests could have instead been spent on reuniting children with their parents.
Thousands of migrant children were separated from their parents in recent months when they crossed the U.S.-Mexico border illegally, as part of Trump's "zero-tolerance" practice. The president signed an executive order last month that halted his administration's separation of immigrant families.