Doja Cat fans are furious with the Grammys this morning after the performer was snubbed at this year's ceremony with many online comparing her treatment to that of Nicki Minaj's.
Disappointed fans of the "Like That" singer have been taking to social media to say she was robbed after she failed to scoop any trophies in three categories—Best New Artist, Record of the Year, or Best Pop Solo Performance at the Grammys.
The singer—whose given name is Amala Ratna Zandile Dlamini—also performed at the ceremony, with her futuristic staging of her track "Say So" being widely praised.
However, she lost out to Meghan Thee Stallion for Best New Artist, Billie Eilish for Record of the Year and Harry Styles took home the award for Best Pop Solo Performance for "Watermelon Sugar."
Doja Cat's snub has seen many fans of Nicki Minaj—collectively known as Barbz—compare the situation to that of the "Roman's Revenge" singer who has publicly spoken out against the Grammys after years of snubs.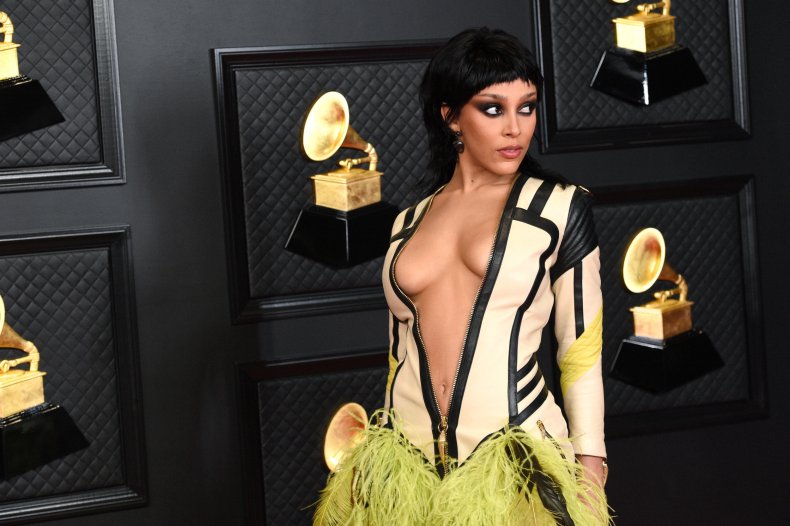 During the 2012 Grammy Awards, the rapper lost the award for Best New Artist to indie-folk band, Bon Iver.
Although she has since been nominated 10 times, Minaj is yet to win a single Grammy, despite her illustrious career.
"Never forget the Grammys didn't give me my Best New Artist award when I had 7 songs simultaneously charting on Billboard & bigger first week than any female rapper in the last decade—went on to inspire a generation," Minaj tweeted in November 2020. "They gave it to the white man Bon Iver. #PinkFriday."
As the "Superstar" rapper is widely credited with paving the way for the likes of Doja Cat and Meghan Thee Stallion in the industry—many people are upset to see history repeating itself.
"nicki minaj doesnt own a grammy that's how u know this show is not to b taken seriously," reads one tweet.
While another added: "The industry is starting to treat Doja Cat like how they treat Nicki Minaj and I don't like it. She literally dominated all of 2020 and what did these b****** pay her???? NOTHING."
Another tweet reads: "Doja Cat did not perform Say So as an alien, the grudge, a spy, a cat, a Broadway start, a disco queen, get Nicki Minaj on the remix to #1, and have a viral dance to be snubbed like that tonight."
"2012 nicki won 0 grammys, 2021 doja won 0 grammys, you see the pattern..." said another.
A screenshot of a now-deleted tweet from Doja is circulating that saw her seemingly acknowledge Minaj's many snubs, reading: "nicki queen of rap."
The hashtag #Scammys trended across Twitter as fans expressed anger at certain acts being overlooked—with BTS fans making a huge splash online for the K-pop superstars who lost out to Ariana Grande and Lady Gaga.
Phoebe Bridgers and DaBaby are other notable artists who weren't recognized with an award despite being nominated four times each and the most nominated artist of the night, Roddy Riich, didn't take home any trophies either.
However, despite the snubs, the awards still proved historic for women as Beyoncé and Taylor Swift both broke records with their wins.