Here's How Taylor Swift Just Made History at the 2021 Grammy Awards
Taylor Swift won Album of the Year at the 63rd Annual Grammy Awards on Sunday night, for her 2020 album, Folklore. The highly coveted award marks the third Album of the Year Grammy for Swift—which makes it a history-making win. Swift is now the only woman to ever win three Grammys for Album of the Year.
"Mostly, we just want to thank the fans," Swift said onstage on Sunday, accompanied by some of her collaborators. "You guys met us in this imaginary world that we created and we can't tell you how honored we are forever by this. Thank you so much, and thank you to the Recording Academy. We will never forget that you did this for us."
Swift previously won the prestigious award for her 2008 album Fearless and 2014's 1989.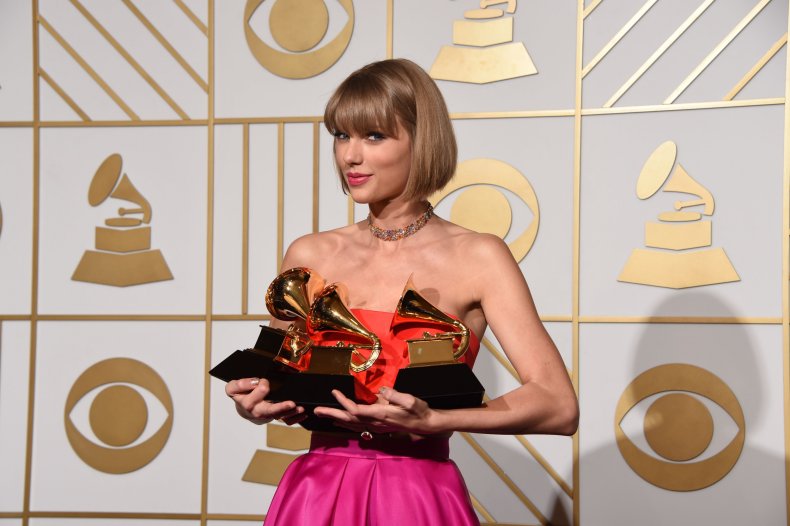 While Swift is the first woman with three Album of the Year awards, she's not the first musician to ever do so. Now she's in the company of three male legends: Frank Sinatra (who won for 1959's Come Dance with Me, as well as 1965's September of My Years and A Man and His Music, the latter two of which were awarded in separate ceremonies because of the Grammys' eligibility window); Stevie Wonder (1973's Innervisions, 1974's Fulfillingness' First Finale and 1976's Songs in the Key of Life); and Paul Simon (1975's Still Crazy After All These Years, 1986's Graceland and Simon & Garfunkel's 1970 album, Bridge Over Troubled Water).
Swift released Folklore amid the coronavirus pandemic, with little advance notice, as a surprise treat for her fans. She collaborated with a handful of indie-rock musicians on the record, like Bon Iver's Justin Vernon and The National's Aaron Dessner, as well as her longtime collaborator, Jack Antonoff.
Both Dessner and Antonoff joined Swift onstage Sunday night to perform "Cardigan," "August" and "Willow." The first two songs hail from Folklore, while "Willow" can be found on Folklore's sister record, Evermore, which was released in December 2020. Due to the Grammys' eligibility timeframe, which starts and ends in the fall, Evermore was not eligible for any awards at the 2021 ceremony.
Naturally, Swifties were very excited to see their fave win the major award, and made their enthusiasm known on Twitter.
Other big winners on Sunday night were Megan Thee Stallion, who earned several awards, including Best New Artist, and Beyoncé, who set a new record by becoming the woman with the most Grammy wins of all time.
Correction 3/14/2021, 11:25 p.m. ET: An earlier version of this story misstated that Swift was the only woman to win the Grammy for Album of the Year twice. She was actually just the first woman to win the award twice as a solo artist.