Dolly Parton Just Officially Broke 3 Guinness World Records
Dolly Parton, who famously sang about working from 9 a.m. to 5 p.m., has been recognized for a much longer stint of work—stretching across seven decades.
The 75-year-old singer-songwriter has broken her own record for the most hits in the U.S. Hot Country Songs chart by a female artist, appearing on the list a staggering 109 times.
She was also recognized by Guinness World Records for two other achievements on the same chart. She has appeared on it for the most number of decades—seven—and has had 25 number ones on it, which is the most by a female artist.
These new titles join the Parton's previous record for having a top-20 hit on the chart for six decades, for which she was given an award in 2018.
Singer-songwriter George Jones (1950s-2010s) joins Parton as the only other artist who has had songs appear on the chart across seven decades.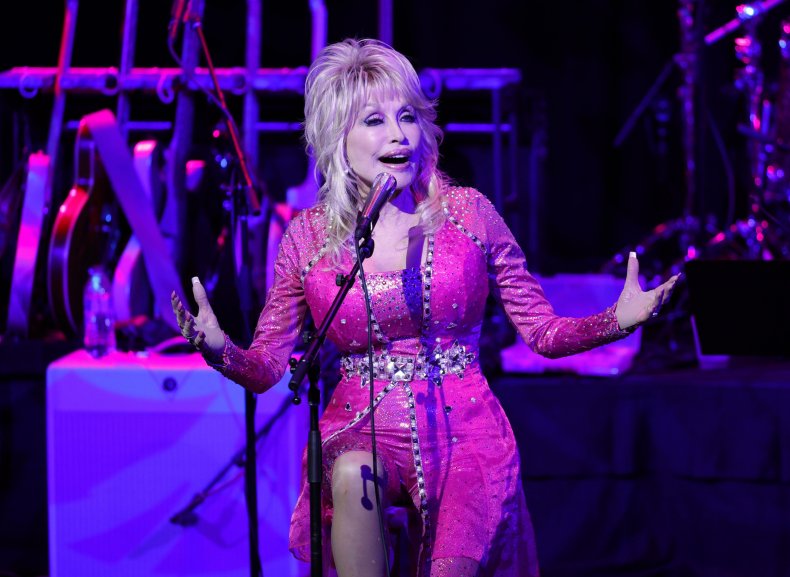 "I am flattered and honored," she said at a ceremony in Nashville, Tennessee, where she received the Guinness certificates, "I had no idea that I would be in Guinness World Records this many times."
"This is the kind of stuff that really makes you very humble and very grateful for everything that's happened."
Parton started recording songs at the age of 10 and and enjoyed success early with the 1967 hits "Something Fishy" and "Dumb Blonde".
Recent duets with Michael Bublé and Reba McEntire has kept her on the Hot Country Songs chart into the 2020s.
"Dolly Parton is one of very few musical artists in history with this degree of staying power," Guinness award adjudicator Sarah Casson said according to Guinness World Records.com.
She described the singer songwriter's success over such a long period of time as "truly an amazing accomplishment."
Parton was nominated this year for best contemporary Christian music performance/song for "There Was Jesus," her collaboration with Christian rock singer Zach Williams.
This came more than five decades on from her first nomination in 1971, for "Just Someone I Used to Know".
Parton earned the Grammy Lifetime Achievement Award a decade ago and is the second-most nominated woman in the award's history, behind Beyoncé, who has 79 nods and 24 wins.
Parton is also collaborating with the author James Patterson in co-writing her first novel called Run, Rose, Run, due for release in March 2022, according to her website. The book will be accompanied by an album of 12 original songs.
Parton started trending on Twitter this week following the announcement that billionaire entrepreneur Elon Musk was named Time magazine's person of the year.
Twitter users shared messages on how they believed that Parton deserved to be given the magazine's accolade.