Dominion Voting Systems has plans to file a defamation lawsuit against MyPillow CEO Mike Lindell, one month after he urged the company to file suit while refusing to honor a cease and desist letter.
Lindell had asked Dominion to "please sue me" after previous legal threats from the company due to his unsubstantiated claims that it was involved a plot to steal the 2020 presidential election away from former President Donald Trump. A two-hour documentary from Lindell, titled Absolute Proof, aired on pro-Trump media network One American News on February 5, claiming that the company's voting machines had illicitly given votes to President Joe Biden instead of Trump.
On Tuesday, Dominion lawyer Tom Clare told The Daily Beast that a defamation lawsuit against Lindell would be filed "imminently," adding that the legal action was being taken after he had "doubled down and tripled down" on his rhetoric while making "himself a higher public profile with his documentary."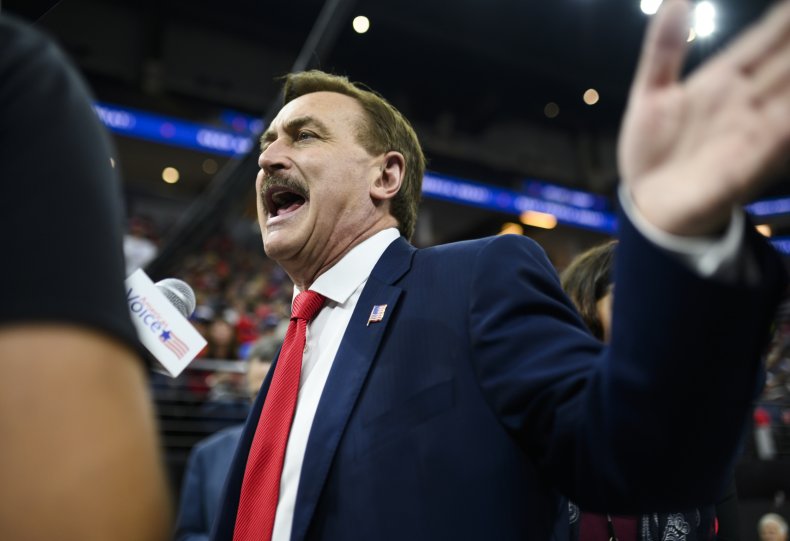 Lindell responded to the threat by once again claiming that he would welcome a lawsuit and further urging Dominion to take legal action against him, reasoning that a court case would make it easier for him to "get to the evidence" that he claims would prove his allegations.
"That would so make my day, because then they would have to go into discovery, and that would make my job a lot easier," Lindell said of the renewed legal threat in comments to The Daily Beast on Tuesday. "I will not stop until every single person on the planet knows, whether you're a Democrat or a Republican, what these machines did to us."
Although the title of Lindell's documentary promised "proof" of his allegations, it was aired following a lengthy disclaimer from the network, insisting that the election fraud claims were based on "opinions only and are not intended to be taken or interpreted by the viewer as established facts." The documentary was removed from YouTube within hours of being uploaded for violating the company's "presidential election integrity policy."
Dominion has previously filed lawsuits against Trump's personal lawyer Rudy Giuliani and pro-Trump lawyer Sidney Powell, both of whom were key boosters of the voting machine claims in the aftermath of the former president's loss in November. Giuliani was sued for $1.3 billion in damages in January, while Powell was later hit with a similar suit for the same amount after the company said she "evaded" them for weeks by moving across state lines to attempt to avoid the suit.
Newsweek reached out to Dominion Voting Systems and MyPillow for comment.