Dominion Voting Systems Gets Reprieve as Pennsylvania Court Halts Machine Inspection
Pennsylvania's Supreme Court on Friday issued a temporary halt to an inspection of Dominion voting machines in the state's Fulton County just before the inspection was set to begin.
The decision came in response to a decision from a lower court in which a state judge declined to halt what Republican state lawmakers call a "forensic investigation" of the state's election equipment, according to the Associated Press.
The AP reported that the state Supreme Court issued the temporary stay until its full panel of justices can review the details of the case and give an official ruling, preventing an investigation from continuing until then.
The lower court rejected requests filed last week from attorneys representing Governor Tom Wolf and Dominion Voting Systems to establish strict protocols over who is allowed to inspect the voting machines.
The requests made last week stated that Dominion and state officials wanted the investigation to be halted unless it could be completed by an accredited elections inspector, according to the Pennsylvania Capital-Star.
Envoy Sage was hired in November as a contractor by the Pennsylvania state Senate to conduct the investigation, the Capital-Star reported.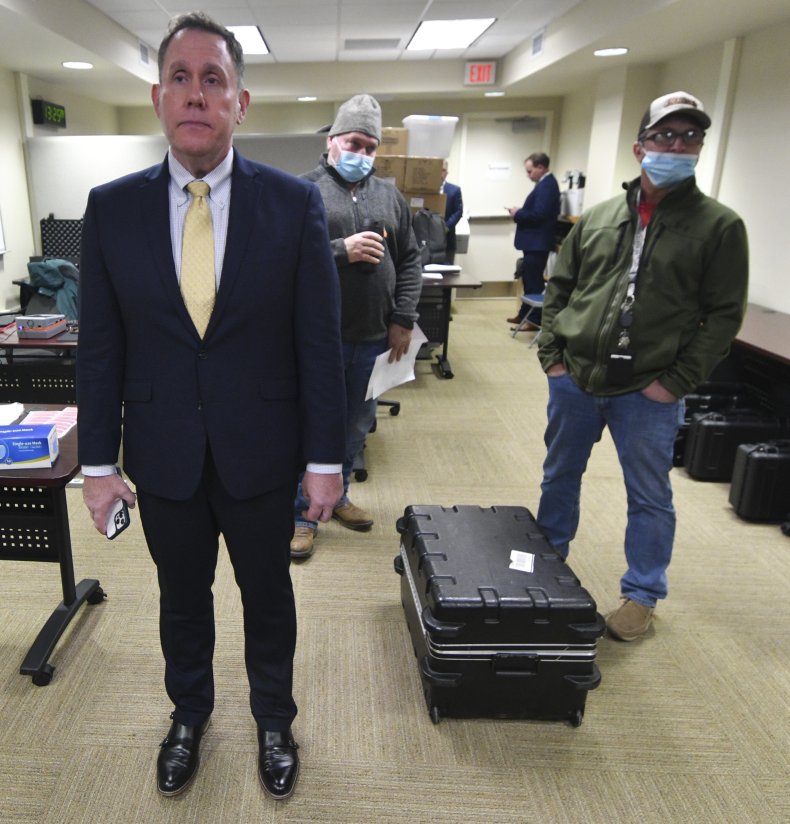 Wolf's administration and Dominion first objected to the idea of the voting machine inspection last month, according to the AP.
Last July, the election machines used in Fulton County were decertified by acting Pennsylvania Secretary of State Veronica Degraffenreid after county officials allowed the machines to be inspected by Wake TSI, a separate software company, the AP reported.
The efforts from Republicans in the Pennsylvania state Senate to continually investigate the 2020 election follow the unproven claims of former President Donald Trump, who has maintained since the election that some form of voter fraud "stole" the election from him in favor of President Joe Biden.
Other legal challenges from Trump and his allies have failed in dozens of courts across the country, and the Capital-Star reported that two separate audits of Pennsylvania votes after the election found no evidence of fraud.
Biden won Pennsylvania by just over 80,000 votes. Fulton County, however, voted overwhelmingly for Trump, with the former president receiving 85 percent of the vote, according to the county's official tabulations.
Tom King, a lawyer representing Fulton County, told the AP in December that the purpose of inspecting the voting machines is to determine whether the machines used in the 2020 election were the same machines that had been certified by the state.
The inspection was set to begin in a meeting that started at 1 p.m. Friday before Tom Breth, another attorney for the county, announced to those assembled that the state Supreme Court had halted the investigation, the AP added.
Dominion Voting Systems did not immediately respond to a request for comment.