Domino's Worker Reveals How Pizza Chain Allegedly Reuses Topping 'Scraps'
A viral video that racked up more than 500,000 views on TikTok left some viewers split over the alleged method behind making toppings for a Domino's pizza.
Shared by@peter.4pf, the now-deleted clip was called, "This [is] what we put on supreme pizzas no cap," read the text over the video. "Waste prevention," read the caption of @peter.4pf's video.
In the clip, the employee recorded himself scooping mix-matched cheese and toppings from the bottom of a tray where, presumably, the toppings had spilled over from their original containers and were now being combined into another container to use for Supreme pizzas.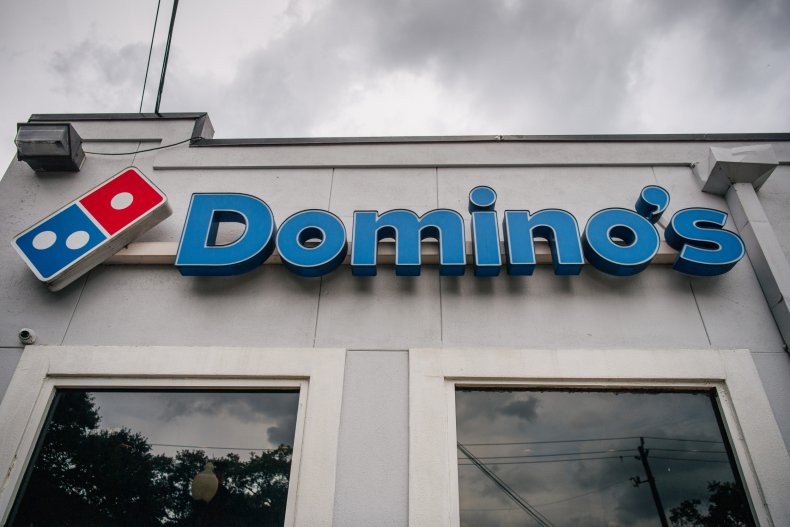 According to Domino's website, the Supreme pizza consists of a variety of toppings, including pepperoni, mushroom and pineapple.
Some toppings have proven to be more popular than others, but most people agree there's, apparently, a wrong way to eat a pizza.
While some viewers were surprised by the alleged method, others did not bat an eye.
"This is why I don't eat out anymore," a viewer commented.
Some pointed out that he did not wear gloves while transferring the toppings to a different container, but others said the pizza oven would kill any germs he had transferred to the toppings, anyway.
Another warned that @peter.4pf may get fired for sharing the video.
"Only if my manager sees this," the TikToker replied.
@peter.4pf shared other videos to his account in which he appears to be actively "sabotaging" the pizza chain until he gets fired.
In another clip that has since been removed, for example, he claimed to have turned the oven off during a busy time of the day.
However, he wrote to Newsweek that the videos were meant to be taken as a joke.
While some expressed their concern, others did not seem to be affected. A few commenters who said they worked for Domino's even confirmed that what he showed was how they made the toppings for the Supreme pizza.
"Good use of scraps," a viewer wrote.
"I have worked at dominos and can confirm this is in fact how you make any pizza with extra toppings," another commented.
One commented that several franchises mix toppings together and add other toppings.
"Nothing wrong with it," they wrote. "It comes from the same containers of food."
@peter.4pf said he has since been, in fact, fired after working with the pizza chain for a year and was told to remove them.
He explained that while he also works as a realtor, he is looking to get his job at Domino's back as well.
Newsweek reached out to Domino's for further comment.
Other videos offering viewers a glimpse of how things are run at fast food establishments have gone viral, including one that shows how the chili is prepared at Wendy's.
An employee shared a video of how she replaced the oil in a fryer at an undisclosed fast food restaurant. The clip revealed what the inside of the fryer looked like, and some viewers were put off.
An employee at a heating, ventilation and air conditioning company cautioned diners from getting ice in their fast food drinks in a viral video. He shared a look inside of a moldy ice machine at an unknown fast food restaurant.