Donald Dillbeck Blasts Ron DeSantis in Last Words Before Florida Execution
Convicted murderer Donald Dillbeck used his last words to attack Florida Governor Ron DeSantis before being executed in the state's first use of the death penalty in over three years.
Dillbeck, 59, died by lethal injection at 6:13 p.m. local time on Thursday evening at Florida's Union Correctional Institution in Raiford, according to the state. He was sentenced to death in 1991 for the fatal stabbing of a woman that he was attempting to carjack less than 48 hours after escaping from prison the previous year.
Prior to the 1990 murder, Dillbeck had been serving a life sentence for fatally shooting a police officer during a struggle when he was 15 years old in 1979. DeSantis signed Dillbeck's death warrant last month.
Florida Department of Corrections spokeswoman Michelle Glady told reporters that Dillbeck woke up early on Thursday morning and visited with a "spiritual adviser" before eating a last meal of fried shrimp, mushrooms, onion rings, butter pecan ice cream, a chocolate bar and pecan pie, according to The Tallahassee Democrat.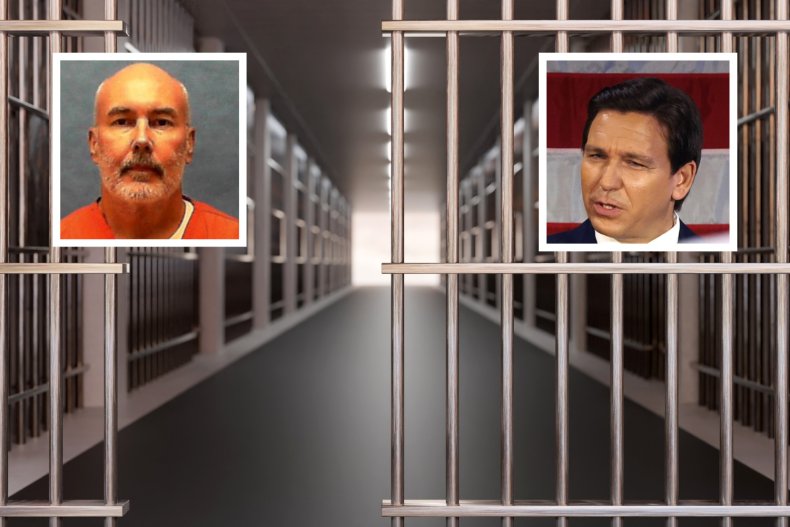 While delivering his last words, Dillbeck reportedly acknowledged that he had "really messed up" earlier in his life before firmly taking aim at DeSantis, claiming that he spoke "for all men, women and children" before concluding that the Republican governor had done "a lot worse."
"I know I hurt people when I was young," said Dillbeck, according to The Democrat. "I really messed up. But I know Ron DeSantis has done a lot worse. He's taken a lot from a lot of people. I speak for all men, women and children. He's put his foot on our necks. Ron DeSantis and other people like him can suck our d***s."
A last-minute petition to halt the execution was denied by the U.S. Supreme Court on Wednesday. Thursday's execution was Florida's 100th since the Supreme Court's reinstatement of the death penalty in 1975.
Last week, the Florida Supreme Court unanimously rejected an appeal that argued Dillbeck's execution was in violation of the U.S. Supreme Court ruling that capital punishment for the developmentally disabled violates the Eighth Amendment's prohibition of cruel and unusual punishment.
Dillbeck's lawyers argued that their client suffered from ND-PAE, an "intellectual disability-equivalent condition" caused by prenatal exposure to alcohol, according to The Tampa Bay Times.
A court document filed on February 10 and obtained by the paper argued that testing of Dillbeck's brain had revealed "widespread and profound neurological damage," including in areas "responsible for regulating planning, mood, judgment, behavior, impulse control and intentionality."
The Florida justices reportedly said that the claim was "too late to be newly discovered evidence" and rejected the appeal on the grounds that Dillbeck's lawyers "had failed to diligently pursue a diagnosis of ND-PAE."
Earlier this month, the Florida Conference of Catholic Bishops sent a letter to DeSantis, who is a Catholic, urging him to commute Dillbeck's death to a sentence of life without parole. The group cited "mitigating circumstances" including the developmental disability and "severe childhood physical and sexual abuse."
"Choose life for Mr. Dillbeck because of the harms caused by implementing the death penalty in Florida," the bishops wrote to DeSantis. "Its use is a violation of the dignity of the person and an indictment on the low value placed on human life itself in society."
Newsweek has reached out to the office of DeSantis and the Florida Department of Corrections for comment.
Dillbeck's execution was Florida's first since Gary Ray Bowles was put to death in August 2019. The gap between the deaths of Bowles and Dillbeck was the state's longest in nearly 40 years.
The gap ended in November 1983 when Robert Austin Sullivan was killed more than four years after the 1979 execution of John Arthur Spenkelink—the first person executed in Florida following the reinstatement of the death penalty.