Trump Issues Stark Warning to Inner Circle About Admitting He Lost Election
Republicans hoping to take back the House this midterm cycle are trying to move past 2020, but former President Donald Trump is refusing to back down from his claims that the election was "rigged" and is warning his inner circle about breaking from him.
On Thursday, Trump issued a stark warning to his allies, threatening to shun them if they admitted he was defeated by President Joe Biden in the last presidential election.
Speaking about former presidential counselor Kellyanne Conway, Trump said that he would have told her to "go back to her crazy husband," prominent Trump critic George Conway, had he known that Conway, who also served as Trump's 2016 campaign manager, believed he lost the election.
"Kellyanne Conway never told me that she thought we lost the election. If she had, I wouldn't have dealt with her any longer—she would have been wrong—could go back to her crazy husband," Trump wrote in a post on his social media platform Truth Social.
His remarks came days after Conway published her new memoir, "Here's the Deal," in which she sides with Trump over her own husband, writing that the former president defended her more times than her spouse did.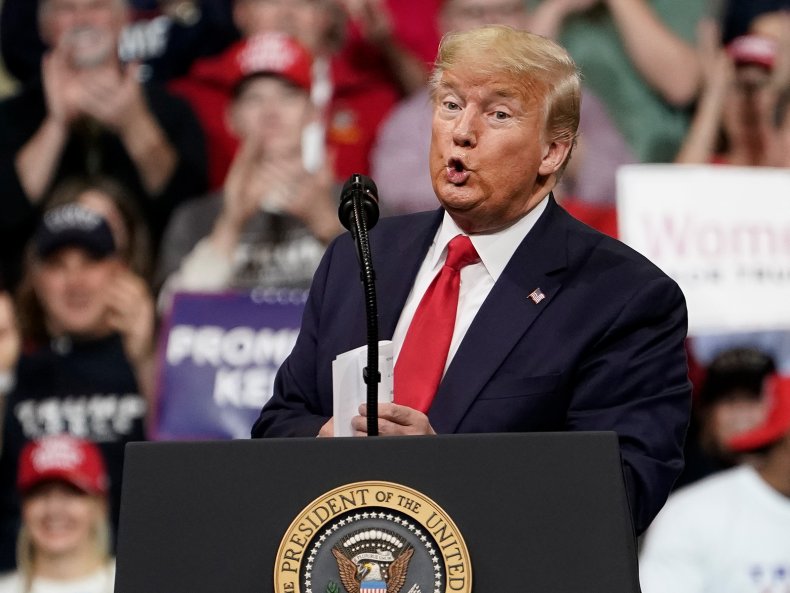 In the book, Conway lamented that Trump's campaign did not accept "responsibility for the loss" of its candidate and rather "played along and lent full-throated encouragement" to the former president's insistence that he won.
"The team had failed on November 3, and they failed again afterward. By not confronting the candidate with the grim reality of his situation, that the proof had not surfaced to support the claims, they denied him the evidence he sought and the respect he was due," the Trump loyalist wrote. "Instead supplicant after sycophant after showman genuflected in front of the Resolute Desk and promised the president goods they could not deliver."
Responding to Conway's acknowledgment of his loss, Trump said: "Writing books can make people say some very strange things. I wonder why?"
"Got 12 million more votes than we did the first time, the most votes, by far, of any sitting President," Trump wrote. "The election was RIGGED. They used Covid to cheat and steal, and the evidence is massive and indisputable."
Some in the GOP have warned Trump about dwelling on the 2020 election, arguing that his refusal to move on could cost the party in the midterms.
Through his primary endorsements, Trump has sought revenge on his GOP rivals by throwing support behind candidates who are mounting challenges against incumbent Republicans who refused to help Trump overturn the results of the election.
This week, the former president was dealt a massive blow to his endorsement record after Georgia Governor Brian Kemp and Secretary of State Brad Raffensperger both clinched Republican nominations in their state's primaries.