Mike Pence Is Urging Republicans to Move Past Donald Trump
Former Vice President Mike Pence is calling on Republicans to become a "party of the future" and move past former President Donald Trump and his determination to keep the 2020 election as a core GOP priority.
In one of the most watched primaries of the midterm season, Georgia Governor Brian Kemp successfully beat out Trump-backed David Perdue on Tuesday in what many have seen as the willingness of Republican voters to move past Trump's election-fraud claims.
Pence's endorsement of Kemp has been viewed as a swipe at Trump, who has pretty much distanced himself from his former running mate since he voted to certify President Joe Biden's Electoral College win.
Speaking to a Monday crowd on the eve of the primary election, Pence told Kemp's supporters: "Elections are about the future. There are those who want to make this election about the past," without naming Trump directly.
"When you say yes to Governor Brian Kemp tomorrow, you will send a deafening message all across America that the Republican Party is the party of the future," the former vice president said.
Republican strategist Jay Townsend previously told Newsweek that a majority vote for Kemp suggests exactly what Pence has hit at—"that a majority of Republican primary voters want to put 2020 in the rearview mirror."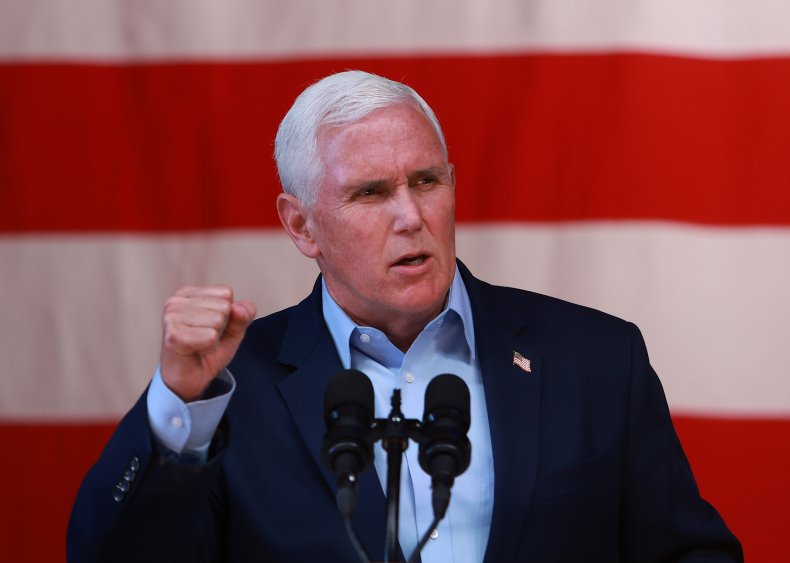 As the divide within the Republican Party becomes increasingly stark, Kemp and Pence have emerged on the same side. The two were among few in their party who did not bow down to Trump's orders that insisted the results of the 2020 election be overturned.
That refusal to do so is the reason why Trump launched an aggressive primary challenge against Kemp with Perdue, who ended up losing massively on Tuesday.
Now that he's out, even Perdue is breaking from the powerful name that backed him, throwing his support behind his opponent shortly after conceding to Kemp. Trump has insisted that Kemp would be unable to win re-election in Georgia, going so far as to say that the state would be "better off" if Democratic gubernatorial nominee Stacey Abrams were to be elected governor.
Pence has increasingly begun forming an identity away from Trump, opening up a path for him to challenge his former running mate in a 2024 presidential bid.
While he remained mum about Trump while serving under him, Pence has become much more vocal about his opposition to the former president's views on the 2020 election and his claims about election fraud.
"President Trump is wrong. I had no right to overturn the election," Pence said in a February speech in Florida. "The presidency belongs to the American people, and the American people alone. Frankly there is almost no idea more un-American than the notion that any one person could choose the American president."