Kellyanne Conway Says Trump Defended Her More Than Her Own Husband Did
Former presidential counselor Kellyanne Conway and her husband, George Conway, have exceedingly different opinions on Donald Trump. Their contrasting political views have often played out in public, but now she is siding with the former president over her spouse on a particularly personal level.
In her new memoir, Here's the Deal, Kellyanne revealed that Trump defended her more often than her own husband did.
"I had two men in my life. One was my husband. One was my boss, who happened to be president of the United States. One of those men was defending me. And it wasn't George Conway. It was Donald Trump," she wrote.
Kellyanne, who was the first woman to run a successful presidential campaign after Trump's victory in 2016, remained a close adviser to the former president throughout most of his administration—even as many staffers came and went through what seemed like a White House revolving door. But a public feud with her daughter Claudia led her to resign in 2020, saying she needed to spend more time with her family.
Her husband, on the other hand, was a ferocious critic of Trump who not only publicly blasted the former president on social media but also founded the Lincoln Project, a PAC aimed at preventing Trump from winning reelection in 2020. He also took time off from his job after the feud with Claudia.
"We disagree about plenty but we are united on what matters most: the kids," Kellyanne said in an August 2020 statement. The couple, who have remained married despite their tumultuous relationship, share four children.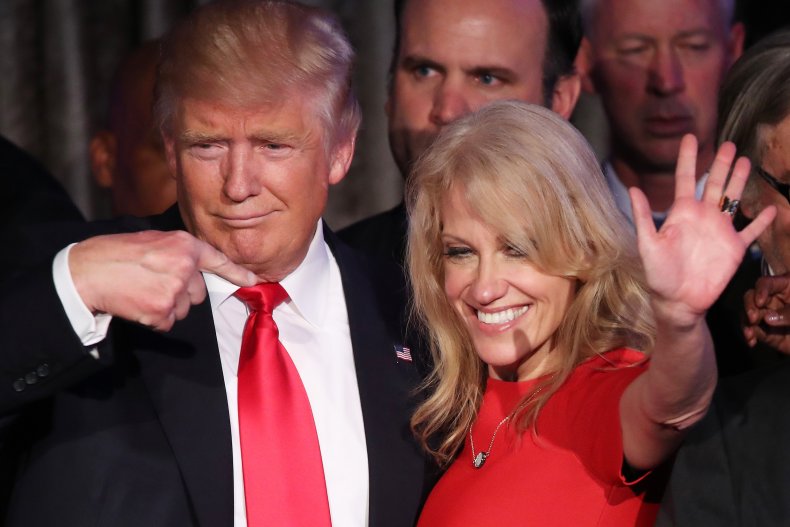 As Kellyanne wrote, even as Trump fired back at George for his criticisms, he often defended her publicly.
In 2019, the former president tweeted: "George Conway, often referred to as Mr. Kellyanne Conway by those who know him, is VERY jealous of his wife's success & angry that I, with her help, didn't give him the job he so desperately wanted."
In her new book, the former counselor to the president said that her husband was "cheating by tweeting" and that his insulting of Trump "violated our marriage vows to 'love, honor, and cherish each other."
"On one side was my marriage and my husband. On the other was my job and my boss," Kellyanne wrote. "George was mixing the two of them in a highly combustible manner. I was able to keep these things separate and in perspective. George should have, too, but it seemed the flood of reaction and attention he was receiving was magnetic and irresistible."
Kellyanne also wrote that George would often fail to disclose things he was involved in that would result in public fallout for her and the Trump administration.
"Everything George did during this time, I found out about it after it happened or as it was happening," she wrote. "It was sneaky, almost sinister. Why not own it, share it, sneer in my face with a copy of tomorrow's Washington Post op-ed or next week's Lincoln Project ad?"
She went on, "Night after night, I would come home from a busy day at work.... While I was minding dishes, dogs, laundry, managing adolescent dramas and traumas, George would be just steps away from me, tucked away in his home office, plotting against my boss and me," Kellyanne wrote.
Here's the Deal is set to be released Tuesday.