Donald Trump Would Lose If 2020 Election Held Today, New Poll Suggests
If the 2020 presidential election were held today, Republican Donald Trump would fall to any Democrat in the potential field and lose out on a second term, according to a new poll released Wednesday morning.
A Politico/Morning Consult poll found only 36 percent of voters would pick the current commander-in-chief over a generic Democrat, with Trump losing largely due to a lack of support among independent voters.
The hypothetical Democrat earned 44 percent compared to Trump's 36 but, as with many polls involving the president, a deep partisan divide stuck out.
Eighty-six percent of Democrats would pick the candidate from their own party, while 79 percent of Republicans opted for a second Trump term.
The poll also examined voters' opinions on whether or not Trump should face a challenge within his own party. Sixty percent of voters indicated Trump should face a primary battle, and even 38 percent of Republicans said Trump should square off with another GOP candidate.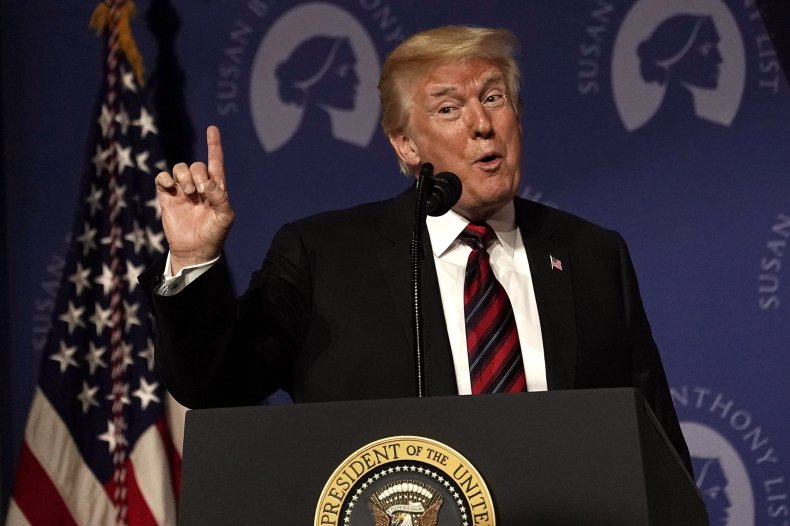 There has been frequent speculation that Trump may face a Republican rival in the 2020 primaries. Arizona Senator Jeff Flake and outgoing Ohio Governor John Kasich each made trips to New Hampshire earlier this year, appearances often associated with a potential candidate dipping their toes in the water for a run at the White House.
Independent voters will be the ones to ultimately decide the next president, according to the poll results. The generic Democratic candidate claimed 36 percent of independents, while Trump received 28 percent of the key voting bloc, though the poll notes that the 8-percent divide was "only barely statistically significant."
While the poll focused on a generic Democrat, the potential Democratic field is loaded. Former Vice President Joe Biden, Senators Bernie Sanders, an independent from Vermont, Elizabeth Warren of Massachusetts and Kamala Harris of California, to name only a few, have each been the subject of speculation over a possible run in 2020.
Other than his re-election, Trump was more focused Wednesday night on this year's midterm elections during a speech at Susan B. Anthony List's Campaign for Life gala. The president implored those in attendance to hit the polls come Election Day, claiming Democrats would try to reverse progress made by the Trump administration.
"But if Democrats gain power they will try to reverse these incredible gains, these are historic gains, they will try and reverse many of them," Trump said. "So your vote in 2018 is every bit as important as your vote in 2016—although I'm not sure I really believe that, but you know. "
Trump followed up with a quip: "I don't know who the hell wrote that line! I'm not sure. But it's still important, remember that."
The poll was conducted from May 17 to 19 and drew results from 1,990 registered voters. The margin of error was two percentage points.